A chainsaw is a powerful tool that is used to cut different materials. Wood, metal, the board can easily be ripped with the chainsaw. It is a very strong energetic tool so any material is cut like butter. Each year at least 3 million new chainsaws are sold in the USA.
No doubt chainsaws are a time saver tool. But chainsaws have a dark side also. Every year many people are injured by chainsaws and it is also a reason for accidental death. A chainsaw is a super energetic tool that is capable of cutting almost all hard things, even the human body.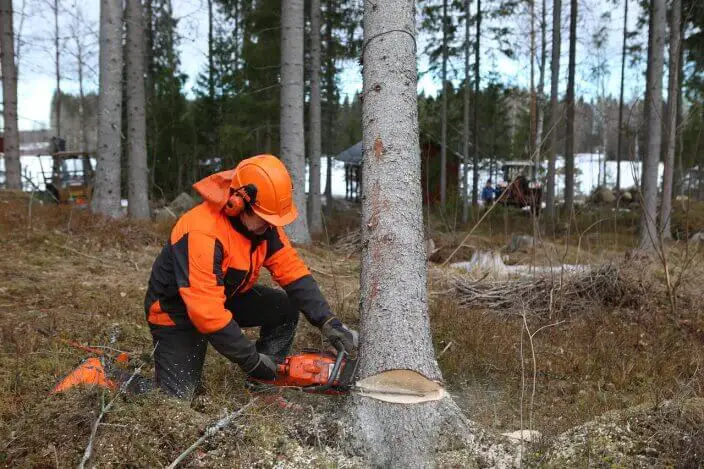 Can a Chainsaw Cut Through a Person
Yes, a chainsaw has the capability to cut a person. Every year many people are injured by the chainsaw and many are killed. According to the report of the Centers for Disease Control and Prevention (CDC), annually approximately 36,000 people are injured by chainsaws. This report strongly proves that a chainsaw can cut a person or animal easily. One of the causes of chainsaw accidents is that it is very powerful so it can easily cut our flesh. In spite of their toughness, bones may be easily sliced with a chainsaw because they are stiff.
Kickbacks Zone of Chainsaw
Kickback is a very common fact of chainsaws. Accidents involving chainsaws are frequently caused by kickback. Be aware of the kickback zone to avoid unwanted issues.  The chainsaw's "kickback zone" refers to the bar's top.
Kickbacks are common in this area. If you use this area of the chainsaw bar, you will greatly increase your chance of getting a kickback. For this reason, we should follow all safety rules to avoid any unwanted accidents caused by chainsaw kickback. 
Kickback can occur if you are not an expert at handling the chainsaw. Sp before work with a saw knows how to treat it. 
You should never operate a chainsaw without a functional chain brake.
When using the saw, keep your fingers thumb beneath its front handle to prevent kickback.
Seven Safety Tips to Use The Chainsaw
Thousands of woodworkers use the chainsaw. It's a very effective tool but it can be dangerous if you are not concerned about it. Awareness and safety factors can save us. Here are some using safety rules of chainsaw: 
Clean the working area properly before starting working. If you work on the dirt area it will be a problem to handle the chainsaw. You can get into an accident by slipping on the dirt with your feet. 
Read the manual carefully that it is given with the chainsaw. The different chainsaw has different user manuals so when you use it for the first time read it because it can solve many issues. 
Before using your chainsaw, check it thoroughly. Keep an eye on the chain and make sure it's securely attached to the guide bar.
The grips must be completely encircled by the fingers and thumbs. With this method, you'll maintain your equilibrium and avoid any unpleasant kickback.
Balance step aside from your partner. Placing your left foot slightly ahead of your right will help you maintain your equilibrium as you move through the exercise.
Make a safety distance between you and the chainsaw when you work with it. At least a 3-5 meters gap with the chainsaw is a safe distance. 
Wearing safety gear is a good idea when you work with the chainsaw. To give you maximum safety try to wear all necessary safety equipment at work time. 
Chainsaw Safety Gear
Safety gear is very important when you use chainsaws. It gives you extra protection. Here is some safety gear that is necessary when you use chainsaws. 
Helmet;
Kevlar arm sleeves;
Chainsaw gloves;
Hearing protection device;
Safety glasses;
Ankle protection.
FAQs
What Happens if I Get Cut by a Chainsaw?
The accident is a very common fact of the chainsaw and it's very unwanted. If you cut through a chainsaw it can be serious. Though it is uncommon, severe head and neck injuries caused by chainsaws can be fatal.
Can You Cut Your Own Head Off With a Chainsaw?
If you come close to the chainsaw your head can be serious. Yes, it is possible to be injured by the chainsaw but it is impossible to cut one's head off with the chainsaw. Because our body has personal protection against impacts and shocks. And also you can not handle chainsaws in one hand to cut your head.
Can a Chainsaw Cut Through Clothes?
Absolutely, chainsaws can cut cloth. The closet is a very soft element that can easily be cut by a chainsaw. 
Conclusions
Many people get into accidents every year using chainsaws. Chainsaw saw has the capability to cut through a person for this reason accidents turn to very dangerous. Our incompetence and unconsciousness are responsible for this. In this article, we discuss safety tips when you use the chainsaw. Our chainsaw using knowledge and safety perfection gear can help us.
Read more: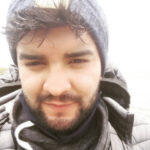 Hi, I am Eric Devin and I am a professional interior architect. Since childhood, I've always enjoyed DIY projects! And, I have loved to solve simple household problems using essential tools and equipment. I have also acquired a lot of information about basic household tools settings by working with contractors.