A jigsaw is one of the versatile power tools designed with a reciprocating blade that's used to produce various shapes of custom curve cut and beveling cut. Jigsaw first came into existence during the mid-20th century primarily designed for intricate cutting of wood.
In today's world, jigsaws have emerged with more advanced versions. This tool is truly recognized by professionals for its wide range of cutting abilities starting from metal pipes to masonry materials like ceramic, plastic, wood, etc.
There are numerous models of jigsaw available in the market with corded and cordless designs offering different cutting features. This is one of the top-ranked cutting tools which is perfect for both DIYers and professionals as well.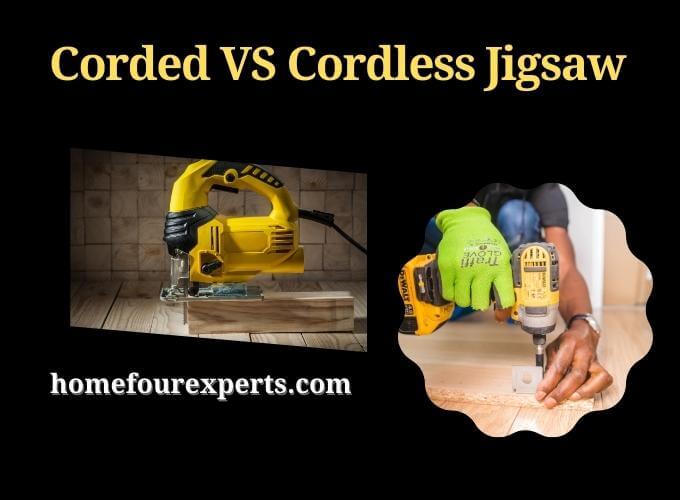 If you are a beginner or DIYer, you must consider whether to buy a corded or cordless jigsaw depending on your purpose of use. In fact, both models are pretty smart to deal with different situations like material's hardness, outdoor or in-door job sites, heavy or light duty, power supply issues, etc. 
Voltage level varies among the various models considering their heavy or light-duty functions. For example, if the materials are harder or heavier, automatically the higher voltage is preferred. 
Nowadays though cordless power tools have come a long way! So this article discusses their comparative features, which model works best in different situations, both overview.
For cordless jigsaw, the average voltage range varies from 12 or 18-volt batteries based on the heavy or light-duty features.  
Comparative Features Between Corded and Cordless Jigsaw
If we consider the comparative advantage, both are in advantageous positions in terms of mechanism, portability, workability, power supply, convenience, etc. Actually, as a DIYer or professional, you should have both in your collection so that you can use them as convenient.  
Overview of Corded Jigsaw
Corded jigsaw is considered to be a potential cutting tool used for cutting hard materials including metal, wood, ceramic, and something even tougher. Another advantage is its continuous power supply connection.
This tool can have a power supply from the main power outlet or power generator of 120 volts. This robust tool assembled with an electric motor and reciprocating saw blade is just perfect to continue its cutting task due to an uninterrupted power supply. 
It does not cause your hand fatigue for long time operation due to its lightweight design. However, one demerit of the corded jigsaw is its limited portability as it has to depend on main power leads or generators to have electricity. It can't function at the outdoor site just because of an electrical issue. In such a case a generator could be an option but not worth it as it's too bulky to carry to outreach sites. 
A corded jigsaw best fits a workshop or tabletop because of its limited cord length. You can run heavy-duty cutting in one shot due to the continuous power supply facility. 
Overview of Cordless Jigsaw
On contrary to the corded jigsaw, the cordless model is designed specially keeping in mind its portability and handiness. It's assembled with a heavy-battery pack offering operators more flexibility to perform tasks anywhere, even at any outreach site they want to. Cordless jigsaw has quite the potential for curve cuts and holes maintaining higher precision. 
For heavy-duty cutting, cordless jigsaw works best with 18, 24, and 36-volt battery packs.
This battery-pack model does not bother with the power supply from the main power leads. This cordless model is widely popular among tradesmen for its portability feature and convenience. 
As it's not assembled with the cord, it's quite safer and handy to operate compared to the corded model. Cordless models offer more workplace safety than a corded ones. Operators are less likely to fall or jaunt from getting tangled with the cord.   
However, cordless jigsaws also are not out of limitations. Due to the heavy-battery pack, it's not convenient to operate for a longer time as it causes extreme hand fatigue.
Another key drawback is its limited power supply depending on the charge level of the battery. Its charges may get drained out at any time particularly when it's used for heavy-duty cutting tasks. The operator has nothing to do but wait until the battery is sufficiently recharged.  
Cordless jigsaw is the perfect choice to operate on ceiling or drywall as there is no risk of being tangled with anything around that could cause trips or fall from the step-ladder. 
What Factors Should Be Considered When Choosing?
1. Power: Corded jigsaws have more power than cordless jigsaws, so if you need to cut through tough materials, you should opt for a corded model.
2. Battery: Cordless jigsaws require a battery, so you need to consider the runtime and battery life of the jigsaw when making your choice.
3. Portability: Cordless jigsaws are more portable than corded models, so if you need to take your jigsaw to different locations, a cordless model might be the better option.
4. Cost: Cordless jigsaws are typically more expensive than corded models, so you need to factor in your budget when making your selection.
5. Weight: Cordless jigsaws are usually lighter than corded models, so if weight is an important factor to you, a cordless jigsaw might be the better choice.
Choosing Between Corded and Cordless Jigsaw
The following is the summary of considerable factors to have a look at a glance so that you can decide perceptively in which situation which model works best. 
Portability
This decision completely depends on what kind of project you are going to deal with and whether it has any limitations to implement in an indoor or outdoor location. If your project does need to deal with portability issues, then you must go with a cordless model. Else, a corded model also could be an excellent choice to accomplish tasks within a fixed place. 
Heavy or Light Duty 
Corded models are specially designed for heavy-duty projects while cordless is great for lighter kinds of jobs. 
Weight
The corded jigsaw is a lightweight model while the cordless one is heavier due to its heavy battery pack. The corded model is quite convenient to handle of its lightweight feature while cordless causes extreme hand fatigue for long-time use. 
However, as jigsaw is a robust woodworking power tool, it would be wise to keep both models in your must-have toolbox which would allow you to draw either immediately to use depending on your project type and convenience. 
Final Notes
I hope you have realized the fact how advantageous both models of the jigsaw are to conveniently perform your tasks. It's widely recognized as one of the best collections of Must-Have-tool. In fact, both models are brilliant in their own entity. 
When the question comes to portability, you just grab the cordless model. Conversely, the corded jigsaw is the best for heavy-duty projects due to the option of an uninterrupted power supply. Finally, which model you should go for, it completely depends on your choice.   
As usual, I would expect to have your comments and feedback so that we can have more exchanges of knowledge in the coming days. There is no end of learning in the technology world.
There are so many new changes emerging in the power tool industry to best suit workability and convenience. Keep yourself updated and get associated with professionals, associations, clubs, etc. to accelerate your self-development endeavors. 
I would appreciate it if you share our articles and website with people you know so that they have access to our online and offline knowledge hub to meet their needs. If you need further consultation, knock us at any time convenient.
Read more: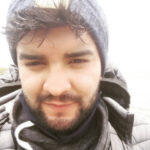 Hi, I am Eric Devin and I am a professional interior architect. Since childhood, I've always enjoyed DIY projects! And, I have loved to solve simple household problems using essential tools and equipment. I have also acquired a lot of information about basic household tools settings by working with contractors.