There are many different applications for the lithium non-rechargeable CR1620 battery, such as gadgets from watches to computer motherboards to electronic organizers to garage door openers to LED lights to pet collars to sporting goods pedometers to calorie counters and medical equipment and more. 
CR is the generic identifier used by all battery manufacturers that include chromium. The abbreviation CR can be used to refer to any battery that contains this material. But not all manufacturers use this label, so often, users get confused about the CR1620 battery equivalents. Some additional names for the CR1620 battery are ECR1620, DL1620, VCR1620 and so on.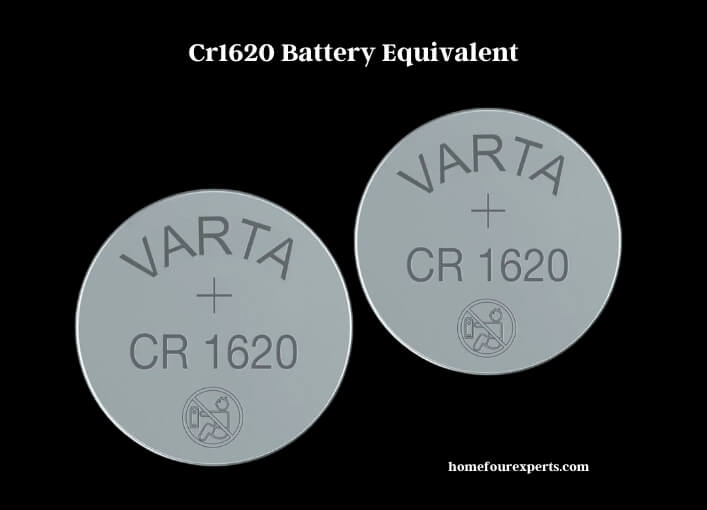 This battery can supply dependable electricity for an extended period. Also, it can perform well in extreme temperatures. It is intended for use with electronic gadgets that require significant power, and this wrist watch battery size is the most common one. Here I discussed the details of CR1620 batteries with their features and equivalent guide to making your purchase confidently.
CR1620 Battery Specifications
Dimension: 16.0 x 2.0 mm (DxH);
A nominal voltage: 3.0 volts;
Cutoff voltage: 2.0 volts; 
A nominal capacity: 65-80 mAh; 
Discharge rate: ~0.1 mA;
Max discharge rate:~1.0 mA,
A self-discharge rate: 1-2% per year(at room temperature).
CR1620 Battery Features
Many batteries are on the market, such as CR2477, LR44, CR1220 and many more batteries. But CR1620 is feasible to supply practically every portable gadget with the power it requires. Regardless of the manufacturer, the high-quality flat-rounded micropower supply CR1620 includes the following features:
Powerful But Compact
Two, three, or more traditional batteries can be replaced by a single lithium-ion cell. Even the tiniest gadgets now have access to a tremendous source of energy, and it's because the lithium coin CR1620 battery has a voltage of 3V and much power in a small form factor. Before purchasing, check the battery cross reference chart to verify its power and size.  
Diverse Device Compatibility
Lithium Coin CR1620 has a track record of reliability in appliances that ordinary batteries cannot power. Calculators, digital watches, laser pens, auto keys, fitness equipment, memory backup, and medical gadgets like a clinical thermometer and a tensiometer can all benefit from the batteries.
Self-discharge Is Extremely Low
Since the lithium coin CR1620 batteries are chemically very stable, they retain 90% of their capacity even after ten years. Lithium and manganese dioxide work together to provide chemical stability. Under low-load discharge conditions, the long-term discharge has been proven.
Maximum Security and Dependability
This Lithium Coin CR1620's different safety and performance properties have been rigorously evaluated, and environmental elements like temperature have also been considered. This data can't be quantified by performing short-term, expedited testing, but we've amassed a substantial amount of supporting evidence.
Benefits of Using the CR1620 Battery
Negligible self-discharge;
There is no mercury added to this product;
Long shelf life of up to ten years; 
Supply three volts power;
Has a wide temperature range of application (from – 30 to + 60 degrees Celsius);
A comprehensive selection can be used in a wide range of situations.
Equivalent Batteries for the CR1620
CR1620 batteries can be swapped out for an analog if you're in a hurry and don't have access to a working original. So it's important to know what battery is equivalent to CR1620? It will be ideal in terms of both size and voltage. If you need to replace this battery, you can use:
ECR1620 and DL1620
It's important to note that the 'E' prefix in ECR1620 batteries is simply the product code for CR1620 batteries manufactured by Energizer, such as Energizer CR1620 lithium battery. 
Similar to the 'DL' prefix in DL1620 cells, which are also simply CR1620 batteries manufactured by Duracell, for example, Duracell 1620. They are all compatible with 3V Lithium batteries with dimensions of 16.0 x 2.0 mm(D x H).
BR1620
BR1620 Battery capacity and drain current are slightly lower than the CR1620, but it has an extremely low discharge rate and a wider temperature range. BR1620 is a lithium-carbon-monofluoride battery that is not rechargeable.
According to the manufacturer, the BR1620 battery has a nominal voltage range of 2.8 to 3.0 volts and a cutoff voltage range of 2.0 to 2.25 volts, depending on the model. The most popular high-quality Hillflower BR1620 battery provides supercurrent flow.
ML1620
ML1620 battery is a rechargeable lithium manganese oxide battery with a nominal voltage of 3.0 volts that can be used in place of the CR1620 battery. The ML1620 battery has a nominal voltage of 3.0 volts and can be used in place of the CR1620 battery. However, it is only used infrequently due to its lesser capacity, higher self-discharge rate, and other factors.
VCR1620
Cr1620 is compatible with VCR1620, but it's not always available in the marketplace. But it provides the same current flow as CR1620. The VCR1620 lithium battery is free of mercury, making it more environmentally conscious.
Among them, has exceptional leak protection and low self-discharge characteristics making this device effective in a wide variety of temperature ranges, such as -20°C to +45°C.
5009LC
5009LC high-quality battery equivalent of CR1620 performs well in low and high temperatures. For example, it can be found in car key fobs and security systems and toys like calculators and cameras. is made by Eunicell and is in excellent condition. Each battery is individually packaged and comes with a tear-off strip.
Comparison Table
Practically most of the manufacturers utilize the CR1620 mark. Following is a comparison of some of the most popular CR1620 batteries, highlighting the essential characteristics and specifications of each: –
| | | | | |
| --- | --- | --- | --- | --- |
| Battery | Nominal Capacity | Operating Temperature | Self-Discharge Rate | Standard Discharge Current |
| Duracell - 1620 | 68 mAh  | -40°C +85°C | <1% | 0.1 mA |
| Energizer CR1620 | 81 mAh  | -30 +60°C | ~1% | 0.06 mA |
| | 75 mAh  | -30°C +85°C | – | 0.1 mA |
| SUR POWER CR1620 | 68 mAh  | -40°C +85°C | <1% | 0.1 mA |
| | 70 mAh | -20°C +70°C | <1% | – |
| Renata CR1620 | 68 mAh | -40°C +85°C | <1% | 0.1 mA |
Battery Comparison: CR1616 vs CR1620
Lithium manganese dioxide batteries, CR1616 and CR1620, both have a 16.0mm diameter, but their height, capacity, and other characteristics differ. Such as, the drain currents of CR1616 are somewhat larger than CR1620. Also, the CR1616 battery has 50-55mAh, whereas the CR1620 battery has 65-80 mAh.
If a device has a CR1620 battery compartment, it is possible to utilize a CR1616 battery; however, the lesser capacity and lower maximum drain or pulse currents can lead it to malfunction if the CR1616 battery is used.
FAQs
1. Is a CR1620 Battery the Same as CR2016?
No, they are not the same. We already know CR1620 Battery has a diameter of 16 mm and thickness of 2 mm with a capacity of 75 mAh. On the other hand, CR2016 has a diameter of 20 mm and thickness of 1.6 mm with 90 mAh.
2. Are 2032 and 1620 Batteries the Same?
No, they're not the same. Compared to 2032, 2016 is much slimmer.
3. Is the CR1620 Battery Rechargeable?
The CR1620 battery isn't a battery, so charging it isn't a good idea at all. Overheating and subsequent depressurization can occur even if you use an electric charger to restore the battery's capacity, and charging can result in a fire.
4. What Is the CR1620 Battery Used for?
CR1620 lithium coin cells have great performance and long shelf life, making them perfect for a wide range of devices, such as remote controls for cars, watches, calculators, cameras, car security alarms, organizers, glucometers, and other electronic gadgets.
5. What Does the CR on a Battery Stand for?
CR stands for chromium in chemistry, and it is shown on the battery how much CR is used. While practically all batteries include chromium, the amount and formula vary, resulting in varying performances.
Wrapping Up
CR1620 battery has a long shelf life and a low self-discharge rate, and it's feasible to power nearly any portable device. After getting the whole article, I hope you are clear about the capacity and equivalents of the CR1620 battery. If you need a CR1620 or its equivalent batteries, then it's wise to seek a trustworthy manufacturer.
But remember, Kids and pets can swallow CR1620 batteries, which is why CR1620 comes in 'pets-safe' and 'kids-safe' containers.
Read more: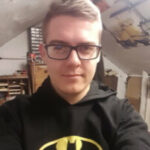 Hi, I am responsible for the 'Homeowners Power Solutions' category. My name is Liam Jaxon and a licensed technician with 7 years of experience in vehicle batteries, electrical gadgets, and home appliances. My working experience in different residential & light commercial electrical sectors and the automobile industry helped to acquire vast knowledge in this industry.