Published on: June 11, 2022
Written by Liam Jaxon / Fact-checked by David Rowan
Many micro and small electronic gadgets choose CR927 batteries and CR927 batteries equivalents because of their high energy density and consistent output voltage. These batteries are non-rechargeable lithium 3.0 volts batteries. The battery's chemical composition, height, and diameter are all indicated by the identifier CR927.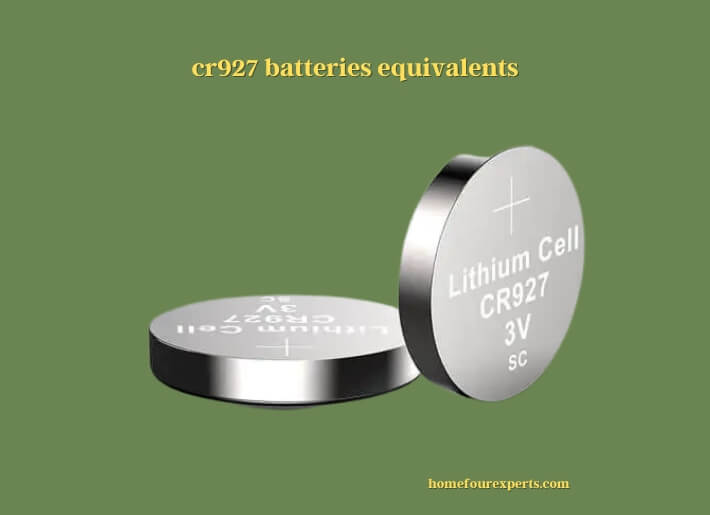 The complete meaning of CR927 is: CR stands for lithium manganese dioxide, the 9 for 9.5 millimeters diameter, and the 27 for 2.7 millimeters thick. Wrist Watch, flashing toys, glow-in-the-dark jewelry and other things that require a compact, high-voltage, high-power battery often employ CR927 lithium button batteries.
There are many brands of CR927 on the market, and they all have the same capacity. The names of CR927 batteries vary based on the manufacturer and the voltage they operate at. These batteries are also known as DL927, DL927B, BR927, CR279-1W and LM927.
This article covers the basics of in-depth information on the Cr927 battery's characteristics, equivalents, and replacements. So keep reading!
Cr927 Battery Specifications
Nominal Voltage:3.0 Volts;
Dimensions: D 9.5 x x H 2.7 mm;
Nominal Capacity: 30 to 35 mAh;
Cut-off voltage: 2.0 volts;
Continuous Standard Load: 62(K);
Operating Temperature: -20-60°C;
Shelf life: 2 to 5 years. 
CR927 Battery Features
CR927 battery can power almost any portable device. The high-quality flat-rounded CR937 battery features and specifications are unique, and the following are some standard features of them: 
Strong But Small
You can replace three standard batteries with a single lithium-ion cell. The lithium coin CR927 battery, which has a voltage of 3 volts and a lot of power in a small form factor, allows even the smallest electronics to access a huge amount of power. Verify its power and size before purchasing by comparing it with the battery cross reference chart.
Long Shelf Life
The CR927 batteries will have a lengthy shelf life due to their high capacity. Most Lithium coin cells have a claimed shelf life of 10 years, Silver Oxide has a shelf life of 5 years, and alkaline has a shelf life of 2-3 years, depending on the manufacturing date. Some alkaline coin cells have a shelf life of less than that. CR927 Lithium batteries are ideal for high-drain electronics that require a lithium battery.
Device Compatibility
Lithium Coin CR927 has a proven track record in appliances that regular batteries can't. They can be used in watches, blinking jewelry, flashing toys, calculators, glow-in-the-dark jewelry, garage door openers, car starters and computer memory backup.
Self-discharge Is Minimal
Because lithium coin CR927 batteries are chemically stable, they retain 90% of their capacity after ten years. Lithium and manganese dioxide give chemical stability. The long-term discharge under low-load conditions has been verified.
CR927 Batteries Equivalents
When it comes to CR927 batteries, they go by many different names depending on the firm that makes them and the voltage they operate at. So you might be thinking, what battery replaces CR927? Usually, chemical composition, height, and diameter all impact the CR927 equivalent. Below are some CR927 batteries equivalents:
DL927
Both DL927 and CR927 batteries are interchangeable. Some DL927 have green cells with 0% Hg that are environmentally beneficial like Duracell batteries. LED readers, reading glasses, a watch, an LED light, and toys are examples of this DL927 battery application.
LR927 and SR927
Battery types LR927 and SR927 are non-rechargeable alkaline or silver-oxide batteries with dimensions of 9.5 x 2.6 mm and a nominal voltage of 1.5 to 1.55V.
This battery is not compatible with most electronic devices because of the voltage difference. If you use an LR927 or an SR927 battery in your electronic device that was originally designed to take a standard coin cell, you will likely encounter problems with the device's operation.
Note: 
Equivalent BR927 batteries (non-rechargeable carbon-monofluoride lithium batteries) and LiR927 cells (rechargeable lithium-ion batteries) are both rare and out of production.
Our Recommendation of CR927 Batteries
CR927 batteries are so compact that they are known as "coin cells." CR927 batteries are commonly marketed in packs of 5, 10, 25, 50, and 100 because of their tiny size. Panasonic, Duracell, Energizer, Rayovac, Sanyo, Vinnic, etc., are just some of the manufacturers. Following are the most popular CR927 batteries:
PKCell CR927 Lithium Button Cell Battery
Non-rechargeable and primary, the PKCell CR927 Battery has the look of a little cylindrical button. Low self-discharge and long charge retention are two common features of button cells when used in the 20°C to 80°C temperature range. 
These PKCell CR927 single-use batteries are very popular because they have a long service life, frequently over a year when used constantly, such as in a wristwatch, calculator, or remote control. They are also commonly used in cameras, toys, and medical devices around the home.
Uogtnon CR927 3V Lithium Battery
In addition to providing good energy Uogtnon CR927 Lithium 3V Batteries also provide precise and perfect alignment with the many different types of specialist equipment available. This battery has a significantly longer life duration than conventional lithium batteries.
The 520 mAh capacity battery can power various devices, including backup power supplies, insulin pumps, watches, calculators, electronic clinical thermometers, and more.
Eunicell CR927 Lithium Battery 
The Eunicell CR927 lithium button cells 3.0V battery is ideal for powering small electrical components in precision engineering instruments. These batteries will last a long time. With minimal drain usage, expect 4 to 5 years of stable current. The positive material is manganese dioxide, which is chemically stable and so has a long service life.
The non-aqueous electrolyte employed in these lithium batteries prevents leaking. Their revolutionary high energy density design makes them robust and lightweight. They are designed to work optimally in temperatures from -20C to +60C, and a steady resistance discharges down to 2.0 volts per cell.
Loopacell CR927 Lithium 3V Battery
The Loopacell CR927 3v batteries are extremely powerful and have plenty of reserve capacity. With this battery size, you can power everything from insulin pumps to laser pointers to heart rate monitors to car alarms and anything else that uses a CR2032 cell size or smaller. All of these batteries can be found in the same family as CR927, DL927, ECR927, etc.
New CR927 Button Coin Cell Batteries
You can use New cr927 button coin cell batteries in small electronic devices such as watches. A wide temperature range of operation and storage is possible. These batteries have a long lifespan, and low drain usage guarantees a constant stable current for 4 to 5 years. The positive material used for long battery life is manganese dioxide (MnO2), and Non-aqueous electrolyte prevents leaking in Lithium batteries. 
A wide temperature range of -20C to +60C has been created for them. A constant resistance discharge to 2.0 volts per cell is listed. It is interchangeable with DL927, ECR927, BR927, GR927, DL927B, BR927-1W, CR927-1W, KCR927, LM927, CX927, CX 927. 
Comparison Chart of Different CR927 Batteries
| | | | | |
| --- | --- | --- | --- | --- |
| Brand | Cell Composition | Volt | Temperature range | Nominal capacity |
| PKCell CR927 Battery | Lithium-Ion | 3 V | -20℃~80℃ | 30mAh |
| Uogtnon CR927 Lithium 3V Batteries | Lithium Manganese Dioxide | 3 V | -22℃~78℃ | 520mAH |
| Eunicell CR927 lithium button cells 3.0V battery | Lithium Manganese Dioxide | 3 V | 20C to +60C | 30mAH |
| Loopacell CR927 3v batteries | Lithium | 3 V | -22℃~78℃ | 30mAh |
| New cr927 button coin cell batteries | Lithium-Nickel Manganese Cobalt (NMC) | 3 V | -40C  to 71C  | 30mAH |
FAQs
1) How Long Do CR927 Batteries Last?
In addition to material quality, battery storage life can be affected by factors such as temperature and humidity. Ideally, a battery should be manufactured of high-quality materials and stored in a cool, dry environment. The good news is that it has a very long shelf life, ranging from 7 to 10 years.
2) Is Cr927 the Same as Lr927 in Terms of Function?
No, they are not the same. The voltages do not correspond to one another. The voltage of cr927 is three volts, and lr927 has a voltage of 1.5 volts. In addition, the cr927 is rechargeable.
3) What is the CR927 Battery Capacity?
The CR927 battery has a capacity of 30 milliamp-hours (mAh).
4) What Energizer Battery Is Compatible With Cr927?
Loopacell CR927 3V Battery is compatible with Energizer CR927 battery. Both are top-quality batteries.
5) Which Batteries Have The Same Voltage as CR927?
2032, 2450, 2025, and 2430 batteries have the same voltage as the CR927 but are not the same size.
Conclusion
CR927 type of battery is quite widespread and popular. These batteries are made by many manufacturers and sold by a wide range of shops. I hope this detailed guide will help you acquire knowledge about cr927 batteries equivalents and features, which will help you choose easily in your next purchase. 
It is wise to always buy batteries from a reputed retailer that carries only the best brands to avoid low-quality or counterfeit batteries.
Read more: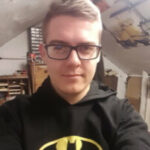 Hi, I am responsible for the 'Homeowners Power Solutions' category. My name is Liam Jaxon and a licensed technician with 7 years of experience in vehicle batteries, electrical gadgets, and home appliances. My working experience in different residential & light commercial electrical sectors and the automobile industry helped to acquire vast knowledge in this industry.