Published on: March 19, 2022
Written by Camila Avery / Fact-checked by David Rowan
This article may contain affiliate links, which means if you make a purchase following our links won't cost you extra, but we may earn a commission. Learn more
Full voluminous eyelashes do not come easy. Everyone is not lucky to have them be born. But hey, in this age of fashion and beauty, we can achieve anything we want if we intend to spend money, time, and care. Good quality semi-permanent and temporary lashes can achieve full and thick eyelashes, but that is not enough.
Only a quality adhesive can ensure that the fake lash attaches to the original lashes for specific weeks. Besides, it is also important that the glue should not cause any discomfort to the clients and the artists.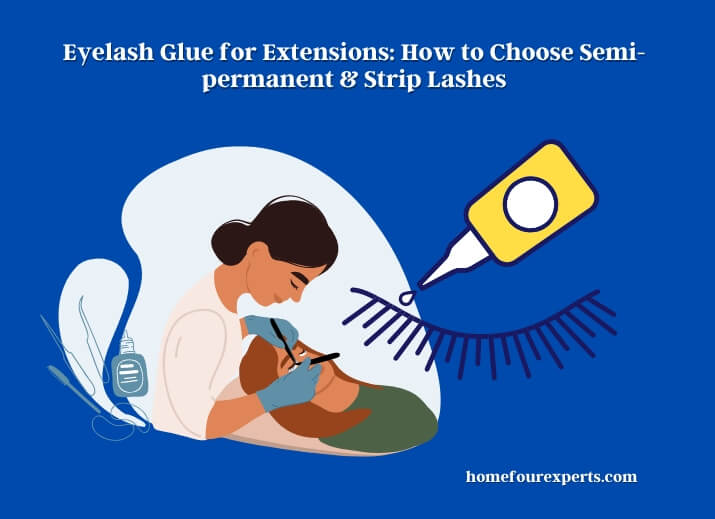 Choosing glue for professional and personal use to attach semi-permanent eyelashes is really difficult as the artist has to deal with women with different sensitivity levels towards the glue. That is why there is a lot of variety of eyelash glue, and a saloon must own multiple varieties of those.
In this article, we have covered the basic kind of glues an eyelash artist must have. Here, you will find several brands of similar quality glue so that you have the freedom to choose one that fits your budget. Also, we have incorporated some top-quality lash glue for strip lashes. So, ladies who are not big fans of semi-permanent lashes can also look beautiful at their big events effortlessly. 
Here we have discussed the eyelash extension glue! So by reading this article you will be able to choose the eyelash extension glue and you can take your perfect one.
How to Choose Glue  for Semi-permanent Lashes 
The Sensitivity of the Client
It is the first and foremost issue of consideration of choosing a lash glue. In saloons, we have to deal with clients with different demands and problems. So, we have to keep collecting different glues with different chemicals. 
If the client claims to have sensitive skin or eyes, then it is a must to use lash glue meant for sensitive eyes. If the client does not have such issues, then maybe any type of glue can be applied. Keep in mind that you always have to use glue that creates no fume and no irritation for adding extensions on lower lashes. Even after choosing the glue, it is always necessary to do a patch test for a safer application.
Drying Time
There are glues available in the market with super fast and super slow drying times. It ranges from 0.5 to 8 seconds generally. However, the glue we use on sensitive eyes dries slower than other toxic glues. The drying time should be matched to the working speed of the technician as well. A very fast-drying glue can be difficult to handle for a slower-working speed technician. 
Retention
It is generally proportional to the drying time. The faster the glue dries also lasts longer. Often clients demand to use glue that will last them for 2 months. But we can't ensure that with sensitive eyes. The glues, recommended for sensitive eyes, have a retention time shorter than other glue. 
Color
If the client chose to have black lashes, then the black colored adhesive is the best option. It makes the lashes thicker and voluminous. On the other hand, some clients want to create a fun look by applying vibrant colored lashes. Clear glue is the only alternative in those cases. 
Environment 
Too humid weather may reduce the retention time of the glue. Look for the ones that suit your climate to make the most of it. 
Label
In our list, we have incorporated adhesives that even beginners can use safely. But it is always necessary to read the labels before purchasing the glue. Read the instructions thoroughly, expire date, shelf life, how to store, and a suitable environment.
What Type of Glue is Best for Eyelash Extensions
The best type of glue for eyelash extensions is cyanoacrylate-based glue, also known as "eyelash extension glue." This type of glue is specifically formulated for use on delicate skin around the eyes and is safe for use with eyelash extensions. Here are some key points to consider when selecting eyelash extension glue:
Drying time: The glue should have a fast drying time, typically 1-2 seconds, to ensure that the extensions are securely in place.
Viscosity: The glue should be of the right consistency, not too thick or too thin, for easy application.
Fumes: The glue should have low fumes to avoid irritation to the eyes and skin.
Allergenicity: The glue should be formulated to minimize the risk of allergic reactions.
Longevity: The glue should have a strong hold and be long-lasting.
It is also important to note that eyelash extension glue should be used by trained professionals and should not be used on natural lashes. It is also important to use fresh glue and not to use expired glue as it may lead to irritation. Regenerate response
How to Choose Glue for Strip Lashes
Color
Glue for strip lashes is available in three colors: black, white, and transparent. You will find top-quality glues of all these colors. It depends on you, which one feels more comfortable to you should be prioritized. The black glue blends in with the liner and is risk-free. The transparent glue can be used with different colored lashes. The white glue is more comfortable to apply on the falsies, and it dries clear and makes a seamless look. 
Ease of Application
Tube, or brush, which one is more comfortable for you to use? Lash glue for strip lashes is available in a tube or a lip-gloss container with a small brush. There are price differences in those containers. Otherwise, they work the same, glue the lashes. The tube is difficult to control for beginners, but practice makes it more accessible. 
Longevity
I don't think it should be considered, but women give it a lot of importance when choosing their lash glue. Wearing a fake lash during sleep is really detrimental, so if a lash glue supports you for 24 hours, that should be enough because you are going to take it off at the end of the day after all. However, the glue must be water and sweat-resistant.
Editor's Selected Eyelash Glue for Extensions
In this article, we have covered the basic kind of glues an eyelash artist must have. Here, you will find several brands of similar quality glue so that you have the freedom to choose one that fits your budget. Also, we have incorporated some top-quality lash glue for strip lashes. So, ladies who are not big fans of semi-permanent lashes can also look beautiful at their big events effortlessly.
Stacy Lash- Extra Powerful Black Adhesive for Semi-Permanent Extensions
Black-colored glue for semi-permanent extensions;
7-weeks retention; 
1 second drying time.
This one glue can make sure all of your clients are happy and satisfied no matter which eyelash extension you use. If you are a pro at applying individual eyelashes and can work super fast, this glue will perfectly match your speed. It only takes a second to dry. So, you can place an eyelash and without waiting, you can forward it to the next one. 
Your clients will not show up before they pass seven weeks after applying fake lashes. Yes, the long retention time is really very long for this glue. The only concerning issue is, as the glue is fast drying and has a stronghold, if you don't pay attention close to the cap as soon as you squeeze a drop from it, the glue will start clogging at the top.
However, for the price, it will be hard to find any strong glue for semi-permanent lashes. Besides, it is latex-free. So there is less chance of any allergies, but it will be better if you don't use it on sensitive eye clients.
Pros
Budget-friendly; 
Strong glue;
Long retention period. 
Cons
Only recommended for professional use.
---
Semi-Permanent Eyelash Glue by Flow Lash
Formaldehyde and latex-free;
1.5 seconds of drying time;
8 weeks of retention time.
If you are looking for a glue that you can apply to every customer you get irrespective of the sensitivity of their eyes or skin, you can try this one from flow lash. The glue does not contain any formaldehyde or latex and does not create thick fumes like cheaper ones. Besides, the glue has a super-fast drying time and a strong bond.
This glue, however, is not suitable for humid weather. That means if you want to get all the benefits of this glue, you have to wait until fall or winter. This glue fails to last for 7 weeks as it claims to be in the humid summer season. In colder countries, this glue will perfectly make all customers fully satisfied with their extension lashes.
Pros
Affordable;
Fast-drying glue;
Suitable for sensitive skin and eyes.
Cons
Low retention in humid weather.
---
BEAU LASHES- Strongest Bonding Adhesive for Lash Extensions
6-8 weeks retention;
1-2 sec drying;
Free of latex and formaldehyde.
Lash techs of humid earth regions can rely on beau lash adhesive with their eyes closed. It functions even in high temperatures and humidity. The retention time is 6 to 8 weeks, as advertised for all clients. It also dries fast to reduce your downtime.
It costs a couple of extra bucks than other adhesives for semi-permanent lashes. But the extra money is really worth it if you don't want to deal with disappointed clients and your own frustration of applying lashes over and over again for low retention. Besides, the refund and satisfaction guarantee is always there for you to save you back if you are still unsure about this glue's excellence. It is available in a 5 ml bottle.
Pros
The money-back-guarantee offered;
Impressive retention;
Suitable for humid weather.
Cons
---
LONRIS Platinum Extra Strong Glue for 9 Weeks Retention
0.5 second drying time;
9 weeks of retention.
To be honest, this glue is a win-win chance. If you are lucky, you will have the opportunity to experience its 9 weeks of retention and half a second's bonding of lashes. If not, it may prove to be a false advertisement. Despite this, I decided to keep this on my list to know about the glue that actually claims 9 weeks' retention. Besides, the customer service and satisfaction guarantee motivated me to review this glue.
I had a positive experience with this when I tried it. It literally takes less than a second to create a bond, and the retention is practically longer than its competitor. However, the negative review about this glue has come from people who are not expert enough or didn't have time to get used to this. Its drying is so fast that you need to practice this on the client's lashes.
Pros
Claims the highest retention;
Adds volume to the lashes.
Cons
Need to pour glue in between sessions;
Expensive.
---
LONRIS Sensitive Eyelash Extension Glue for Professionals and Beginners
2-4 seconds of drying time;
6 weeks of retention time;
Low fume formula.
Looking for a solution to get a full volume of lashes without breaking the bank? Yes, you can get it done at home without paying a high price to the saloon. Besides, if you experience lash fall over, you can always put them back at home without visiting the salon. This maximum diamond glue from LONRIS is the perfect choice for beginners to do their semi-permanent lashes at home. 
It takes longer to dry compared to professional-grade glue. So, you will have enough time to fix any unexpected mistakes. The retention time is 4 weeks, which is not very long. But still, I recommend this glue for ladies who want to do their lashes and have sensitive eyes. I recommend testing the glue to apply a small amount on your skin first before applying it to the eyes. The glue is expensive, but for the safety and worry-free application, who will not pay the price?
Pros
Can be used by beginners as well;
Safe to use on sensitive eyes;
Slow drying time is helpful for amateurs.
Cons
Expensive;
Low retention.
---
Lyon Lash-Black Adhesive for Professional Use
Low fume;
1-2 second drying time;
8 weeks of retention.
For a cleaner option, you can consider adhesive from LYON LASH. from the cute colorful packaging, and you can say this one stays out of the crown. And that is true, and it is truly different in terms of consistency. The thinner consistency of the glue makes fewer fumes and almost no odor. Besides, you don't have to squeeze more glue between the sessions for getting the glue gummy. It is astonishing how this glue holds its thin consistency for up to hours, giving the lashes a 1 second drying time.
It is a good budget-friendly lash glue, but I would suggest not applying it to clients who have sensitive skin or eyes for its negative reviews.
Pros
Odor-less;
Gets less tacky;
Budget-friendly.
Cons
---
NIKKILASH – Extra Strength Medical-Grade Adhesives for Eyelash Extensions
2-3 seconds drying time;
5 weeks retention;
Medical grade adhesive.
Apart from the extra-strength adhesive, NIKKI LASH also produces adhesives for sensitive and extra-sensitive eyes. Those are pricier needless to say. However, this extra strong glue contains 5 ml of adhesive properties like Ethyl Cyanoacrylate, Polymethyl Methacrylate, etc. it does not have latex or similar materials. The glue sets as a glossy black substance, making the fake lashes even thicker and mimicking the look of wearing eyeliner.
The retention time is generally 5 weeks at the least, but it appears that if you are not careful about the application, the glue may not set well and can fall out the next day! So, be cautious about which glue you are using. The sensitive and extra-sensitive type of adhesive takes longer to set. So, it is a must to pay attention to which one you are using during the application.
Pros
Non Damaging to natural lashes;
The glossy black color makes the lashes voluminous.
Cons
---
Forabeli-NO Fume Pure Sensitive Eyelash Extension Glue
7-8 second drying time;
¾ weeks retention period.
This glue is so safe that even beginners can try this at home. It does not create any fumes, so if you have to keep your eyes open while doing the lashes, you won't feel any discomfort or irritation. Don't just stick with the upper lashes, and now you will have that glue that lets you get a fuller lash line on the lower lid as well.
We know how irritating the fumes are for the technicians that come from cheaper fast-acting glues for professionals. This glue may take longer to dry and have shorter retention; neither your own eyes nor the customer's eyes will burn while using FORABELI glue. It is a safe alternative when you have to play the game on the safer side.
Pros
No fume, no irritation;
Excellent packaging;
Money-back guarantee.
Cons
---
BEAU LASHE Extra Strong Black Bonding Adhesive
3-4 second drying;
4-6 weeks retention.
So far, BEAU LASHES has brought the longest range of adhesives for individual lashes. Their adhesives are differentiated based on drying time, retention time, and toxicity. The former glue from this brand we have reviewed was perfect for pro lash artists who have mastered their skills for years. Only a pro artist can swiftly work to match the fast drying time of the glue. 
However, this glue has fewer fumes and a slower drying time of 3 to 4 seconds. I find it better for intermediate artists so that they can take time to make their artwork flawless. The retention time is also praiseworthy. Though the retention varies with the maintenance of the lashes, it is never the same for each customer. This glue will make sure the client does not need to visit the salon twice a month to fix the lashes. 
Pros
Suitable for intermediate lash artists;
Long retention time; 
Low fume.
Cons
---
BEAU LASHES-Crystal Clear Bonding Adhesive for Colored Semi-permanent Lash Extensions
Clear texture;
Fast drying and long retention;
Nontoxic.
Finally, the ultimate clear glue you have been looking for to satisfy your bold and younger customers. Teens and young adult ladies love colored or a hint of color in black eyelashes. Besides, not all women are lucky to have thick black lashes. For them, different shades of brown are more natural. You can't fix these with black glue, no matter how thick it makes the black lashes look. 
This clear glue has the same drying and retention time as the top-notch black adhesives for semi-permanent individual lashes. It is also non-allergic, so normal people can try this out. However, in my opinion, a little patch test should be done before applying this to any client. 
Pros
Goes with lashes of any shade;
Suitable for sensitive skin and eyes.
Cons
May not suit sensitive eyes.
---
Esqido-Clear Companion Eyelash Glue for Strip Eyelash Extensions
Water-resistant;
Stronghold; 
Safe for sensitive eyes;
Clear glue.
Only a tiny amount of ESQIDO glue is required to bond your strip lashes on your lash line. The glue is highly water-resistant. Neither rain, shower nor sweat can make the fake lashes come off in the middle of the crowd. Besides, these take less time to get tacky and totally dry out. Once the clear glue is totally dried out, it becomes seamless. This is a great option for a natural no-makeup day. Just wear a pair of lashes to get a feminine vibe and you can leave the makeup at home. 
However, the glue is easy to take off too. An oil-free makeup remover is all it takes to wipe it off from the fake and real lashes. Remember not to apply too much of it while applying.
Pros
Seamless application;
Quick-drying;
Long-lasting.
Cons
---
Cardani Secure Hold Adhesive for False Eyelash & Eyebrow
White glue dries transparent;
Use for false strip lash and eyebrow.
Honestly, fake lashes don't look unnatural on anyone when the eyebrows are equally thick and wide. That's why I always suggest my clients have brow extensions whenever they can. Wearing a fake eyebrow extension is a cheaper and instant solution, like wearing strip lashes. This CARDANI glue works on both eyelashes and eyebrows.
The glue is white when liquid so that we can have a look at where we are putting it and how much we are using it. It turns transparent when it dries off. I don't know what spells they have cast in it, but obviously, it is the best glue if you work with eyelashes and eyebrows with colors other than black. It has a thin brush to make the application controlled and easy. It is waterproof but easily removed with the right kind of makeup remover. For a long-lasting, worry-free application, look nowhere other than CARDANI adhesive.
Pros
Seamless application;
Easy to control the application;
Multipurpose.
Cons
---
Revlon Precision Lash Glue -0.17 fl oz
Non-allergic;
Fast-drying.
Does the most used drugstore glue annoy you with irritation and messy application? Try REVLON glue for a safer and easier application on strip lashes. It takes almost no time to get tacky so you can apply the lashes on your eyelids. It dries crystal clear without any residue, so the lashes look more natural and clean. 
The most important thing is, it does not cause any discomfort to sensitive eyes. The glue is just like other expensive glues, made with non-allergic chemicals. It may seem a bit pricey, but it definitely goes a long way. Remember to always keep the cap closed between the applications to avoid clogging up the glue inside the tube.
Pros
Safe for sensitive eyes;
Long-wearing;
Fast application;
Easy to use.
Cons
---
DUO Clear Adhesive for Strip False Eyelashes
Stronghold;
0.25 oz tube.
If you are a beginner at applying strip lashes, this glue can be the first option you can try out. It is cheap, not the best of its kind, but it is a good practice. It comes in a tube and has a thin watery consistency. You will need only a little amount to coat the thread of the lashes only. After applying it on the strip, wait for a minute to get the glue to be tacky. Then place it on your real lashes carefully so that the glue does not spread all over your eyelid. Once done, you are good for all day long.
Please note, this glue is not recommended for latex-allergic women. It can cause redness, irritation, and burning. For sensitive eyes, other high-quality glues will be safer to use.
Pros
Cheap;
Long-lasting;
Water-resistant.
Cons
---
KISS I Envy Super Strong Hold Black Eyelash Adhesive 
0.176 oz;
Goes with black lashes;
Hypoallergenic.
The advertisement says you can wear your lashes for up to 48 hours in a row if you use this glue with them. I obviously never recommend wearing strip lashes during sleep, but you get the idea that this glue will not cause the corner of your fake lashes to lift up when you don't want them to. 
This cheap adhesive is a better option for ladies who wear black lashes and black eyeliner than a tube. The applicator makes using the glue more comfortable and neat. Even with sensitive eyes, you can wear the lashes you want to with KISS I ENVY adhesive. Unlike cheaply made glues that clog up when dried out and create a glossy white line, it blends seamlessly with the eyeliner.
Pros
Extra long-wearing;
Blends with eyeliner;
Inexpensive.
Cons
May not suit well with lighter eyelashes.
How Do I Remove Eyelash Glue
There are a few ways to remove eyelash glue from your eyelashes or skin:
Use makeup remover or coconut oil to gently rub the area and loosen the glue.
Apply a warm compress to the area for a few minutes, which can also help to soften the glue.
Use a small, pointed tool, such as a tweezer or toothpick, to gently scrape away the glue.
If the glue is still persistent, you can use a product specifically designed to remove eyelash glue, such as an eyelash adhesive remover.
It's important to be gentle when removing eyelash glue, as pulling or tugging on your eyelashes can cause them to fall out or damage the hair follicles.
Conclusion
All your worries about finding the best quality eyelash glue for all kinds of clients ends here. Now you should not have any trouble finding the right adhesive for sensitive and tough women. Besides, the adhesives for strip lashes should make wearing the lashes quick and effortless. My years of research, testing,, and review might help others find the best adhesive to make them loyal.
Related Posts: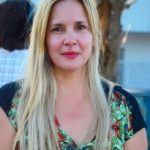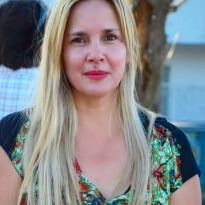 Guys, I am Camila Avery and I love to help my mom to do indoor & outdoor activities. As a lady, I have passed my time on gardening, home improvement, and personal or self-care. I have acquired some degrees in outdoor recreation, beauty, and hair care. It is not easy to work with top-level professional beauty experts. But, I got that opportunity and experimented with different hair extensions, hair colors, and cuts.