This article may contain affiliate links, which means if you make a purchase following our links won't cost you extra, but we may earn a commission. Learn more
Drying hair with hairdryers is not healthy, but we have no other option as our life gets busy. We have to look presentable and feel confident every day which is not going to happen if our bad hair comes in the way. A hairdryer is compulsory for ladies who can't live with regrets. Besides, ladies with different illnesses prefer using a hairdryer rather than roaming around with soaking-wet hair.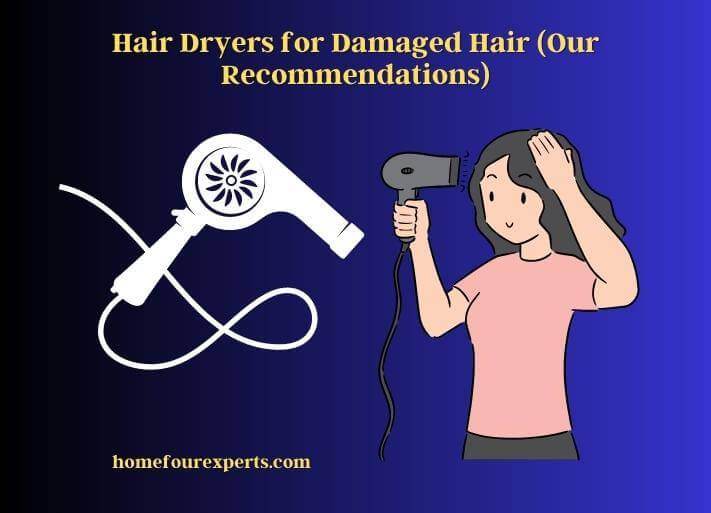 We can't deny the damage caused by traditional hairdryers. Hair becomes frizzy, dull, over-dried, and prone to breakage. If we continue doing the torture every day, it takes the damage to a point of no return. No worries, we have some solution to your problem. You don't have to ditch the dryer, instead invest in one that can cure the damage. If you want to purchase a hairdryer for yourself or your friend for the first time, then you can also choose to invest in one that is less damaging. 
We have created a long list of 14 hair dryers that are non-damaging to hair and some even claim to heal the damage. Read out the review to find out more.
Which Hairdryer Does Not Damage Hair?
Actually, no hair drier will damage your hair if you (1) use a low temperature and (2) take time while blow-drying, and (3) use the dryer from 4 to 5 inches away. Well, this is something impossible considering how busy our lives have become. 
So you can invest in a hair dryer that can dry hair faster without using high heat. There are several options for that. You can use far infrared, ionic, ceramic, or infrared light hairdryers. All of these have different advantages for different hair types. Please read our review part thoroughly to find out which one suits our hair type best. 
Read more: Check out Our Top 9 Eyelash Extension Cleansers
Is Ionic or Ceramic Hair Dryer Better?
Ionic hair dryers make the hair "look" healthy. The hair will dry faster without using high heat. The hair will be frizz-free and super shiny. Please note, it won't work on damage repair much, you have to use hair care products and heat protection to keep the hair damage-free and restore its beauty. 
On the other hand, the ceramic hair dryer uses gentle heat to dry hair. It takes longer than ionic dryers. The heat is automatically adjusted to your surroundings. So, the chance of over-drying your hair is reduced. It also keeps the hair smooth and silky due to the ceramic therapy and it is less damaging. 
What Settings Should I Use on My Hair Dryer to Minimize Damage?
To minimize damage to your hair while using a hair dryer, it's best to use the lowest heat setting and the lowest airflow setting that will still dry your hair effectively. It's also a good idea to use a diffuser attachment to disperse the heat and airflow more evenly, which can help prevent damage to your hair. Additionally, try to keep the dryer at least six inches away from your hair to prevent overheating.
View Our Selected Hair Dryers for Damaged Hair-
Panasonic Professional-Quality Nanoe Dryer for Smooth, Shiny Hair
Concentrator and diffuser nozzles;
Two speed and three heat settings with cool shot button;
Quiet.
Often ladies with damaged hair ditch their drier and switch to hair extensions to look presentable. Not anymore, this Nanoe dryer from Panasonic will dry your hair and will repair its previous damage in the process. Unbelievable? Well, let me explain to make it believable. This hair dryer collects moisture from the air more than any other ions and delivers it to your hair shafts. It helps to repair damage leaving the hair lighter, smoother, and shinier than ever before. 
There are two nozzles, one for big bouncy hair, and another for styling. Apart from the temperature settings, there is also a cool shot option available so that you can take your time while drying the hair without the heat. 
However, this impressive hair dryer is affordable as well. It is quieter and more efficient than any other high-end hairdryer in the market. If you are hesitant to invest too much money in hair, then this one is worth your investment.  
Panasonic Nanoe Salon Hair Dryer with Oscillating QuickDry Nozzle
In addition to the removable oscillating head;
2-speed settings and 3 heat settings.
Our hair gets damaged from hairdryers when we use a cheap dryer that does not distribute the heat evenly. As a result, our hair becomes prone to break. So, Panasonic made their Goldpro hairdryer efficient in distributing the heat evenly. In fact, it never blows too hot air to prevent damage. Instead, it produces precious ions that help the hair to look shiny and healthy. 
Now, as the heat is lower, it will take a little time to dry your hair. Especially if you have long and thick hair. Won't it hurt to hold the dryer for that long? No, because it is lightweight and comfortable to hold. Besides, the placement of the switches is so convenient that it eliminates any accidental press. It is pricier than the Panasonic hairdryer, but quietest at its best.
Dyson Supersonic Hair Dryer for Damage-Free Drying of Thin Hair
4 heat settings & 3-speed settings;
A good option for thin and fine hair;
Well balanced;
In a word, it is the next generation hair dryer for tech lover girls. By the look of it, anyone can say, this one stands out of the crowd in terms of look and performance. Unlike other conventional hairdryers, it has an 'I' shape instead of an 'L' shape. That is possible because the motor is placed on the handle, not on the air blower. This simple alteration makes a tremendous difference. You won't feel the weight stressing your wrist of its superior ergonomics. 
This hairdryer is extremely powerful. It produces 30% more power than other dryers. If you have fine hair, then this high-temperature setting may dry it out, but the cool shot is great for maintaining the health of fine hair. 
There are different nozzles for different styles and hair types. If you have curly hair and want to maintain the bounce of it while drying, then the diffuser will work great on it. I can't stop writing about how great this hair dryer works on damaged hair and prevents damage to other kinds of hair. The only thing I want to mention is, it takes a little time to get used to its uniqueness. 
Conair Ionic Ceramic for Fast Drying
Easy to clean filter;
Fast, consistent and gentle drying;
Long-lasting.
Infrared heat is the safest option for damage-free hair drying. It remains consistent with the temperature of the hairdryer. Conair hair dryers successfully have installed infrared heating sources for gentle and even heat up. If you don't leave your hair bone dry and prone to break. 
Moreover, this hairdryer is equipped with a high-torque motor that works faster on drying. This machine has three heat, two-speed settings, and a cool shot option. The best thing about this is, it is never too hot to fry your already damaged hair. You can't damage your hair even if you want to. 
Apart from all these advantages, this one is a no-maintenance hair dryer. The filter is super easy to clean regularly. No overheating due to clogged filters as it can be cleaned regularly. From my experience, maybe this is the reason this hairdryer lasts for over 5 years.
CHI 1875 Advanced Ionic Compact Hair Dryer
1875 Watts;
Adjustable 3 Heat / 2 Speed Settings;
Lightweight and Powerful DC motor;
Air Nozzle Concentrator and Diffuser included.
What if I tell you that this revolutionary hair dryer lets you take control over the cool shot and ion flow with heat and speed without touching any switch? Yes, you are reading right. This hairdryer is total ' hands down. Set the flow just the way you are and put the dryer on any surface. This is how you relieve your hands from it. 
With the adjustable flow, you can dry up the hair up to 50% faster than normal hair dryers and get the shiniest hair because of the adjustable ion flow. If you choose to hold this while drying the hair, the experience will be extremely comfortable as the machine is light and the handle is curvy and rubber-coated. You are getting a heat protection spray and styling serum in the package for the best protection against hair damage.
AMAXY- Hairdryer to Heal Damaged Hair
Infrared lights heating mechanism;
Four heads for salon-like styling;
Safe for pregnant mothers and kids;
Works on damage repair.
Do you have kids in the house or are you expecting one? In both ways, a traditional hair dryer can cause harm to you and your baby. Amazon hairdryers have infrared light in them that keeps you safe from the harmful radiation that coil-based hairdryers eliminate. 
In addition, infrared heat acts as a therapeutic treatment for scalp and color-treated, keratin-treated, and damaged hair. Are you a fanatic about hairstyling? Then this one is the best choice for you. It comes with four different nozzles to serve different styling purposes. These kinds of dryers are mostly used in high-end salons that cost a fortune for one visit. Grab this inexpensive hair dryer to get salon-perfect silky soft damage-free hair every single day!
ROSILY Salon Hair Dryer, 2200W Professional 2 in 1
Budget-friendly price;
Comfortable Grip;
Drop Proof Heat Insulation Nylon Material.
Ladies with curly hair often get confused while choosing hair care products for them. To be honest, the manufacturers focus mainly on wavy and straight hair when launching any hair care tools and products. However, ROSILY has launched this hairdryer solely for curly-haired women. This will eliminate the stubborn frizz on curly hair without ruining the natural shape of the curls. 
Choosing this hairdryer got easier when they recommended heat protection spray and conditioner to use with this dryer. Some may find it a business strategy, but for some, it saves their time choosing heat protection spray separately. However, this cheap hairdryer has a slim frame that fits easily in any suitcase or travel bag. Not a single day without the perfect hair even on vacations!
Read more: Finding the Best Curling Irons for Short Hair
Remington AC2015 Pro Hair Dryer with Pearl Ceramic Technology
Professional Motor;
3 Heat, 2 Speed Settings, Cool Shot;
1875 watts max power.
What makes this Remington hair dryer better than others? It's a low price point and superior quality. Yes, it has fewer adjustable settings and impressive features but in the end, the quality and performance matter. And Remington didn't compromise while manufacturing this machine. 
It does not produce the excessive heat that we usually use on our soaked hair. Rather, its heat is very gentle and consistent with the hair. Despite the low heat, it blows out the hair very fast because of the speed. See, we actually don't need much heat for fast hair drying. 
Apart from this, it also produces an Icon to seal the style and waves in place and make it look polished and frizz-free. For the price of one-third of branded hairdryers, what else do you expect from it?
BaBylissPRO Ceramix Xtreme Dryer for Shiny Damage-free Hair
Suits all hair types;
Easy clean filter;
Leaves a straightener-like finish.
Along with the six heat and speed settings, you will get a super-smooth hair straightener-like finish on your hair irrespective of the hair type and quality. Just like a hair curling wand and straightener, this hair dryer uses infrared heat and ceramic to dry the hair with a lasting glossy finish. The wide set of temperatures makes it suitable for any hair type. 
I don't recommend using the high heat unless you have coarse and thick hair. No matter which temperature setting you use, finish the blow-drying with a stroke of a cool shot. This not only locks the hair in place but also keeps it safe from any possible damage. This hairdryer is affordable and long-lasting. One dryer suits everyone in the house.
Revlon Hair Dryer/Volumizer Hot Air Brush
A good option for fine, flat hair;
Enhance volume to thin hair.
Do you struggle with thin and fine hair that stays plastered to the scalp? Backcombing and dry shampoo adds a little volume to the root but doesn't last long, needless to mention how damaging backcombing is for thin hair. Revlon hot brushes eliminate the need for backcombing or adding any harmful chemicals to the hair to prevent damage. Instead, it is an oval-shaped hot air brush that lifts the hair at the roots and adds body and wave to the tip. 
Why invest in a hot air brush when there are numerous high-quality hairdryers available? Because it reduces the burden of using different nozzles for different purposes. It is light, compact, and travel-friendly. Use it just like you use the round detangling brush. There is a brush and a dryer in the same device, so it saves downtime as well.
Read more: Choose the Best Curly Hair Extensions that Match Perfectly
Sam Villa Essential Series Blow Dryer
Large diffuser for short or curly hair;
Lightweight.
The diffuser of this hairdryer makes all the difference. For drying curly hair, it is important to use a diffuser nozzle to maintain the natural curl intact. It becomes easier when we have a large diffuser nozzle as it houses a lot of hair and dries faster. This is actually the case when you use a Sam Villa hairdryer to dry your naturally curly hair. 
There is also a concentrator nozzle to dry hair flat and shiny for easy styling. Choose among the three heat and two-speed settings depending on the hair type and how fast you want to dry your hair. It looks very stylish and comes in a well-decorated pack. Moreover, the plug is safer than other models for long-lasting use.
NITION Negative Ions Ceramic Hair Dryer for Damage Management
Large diffuser;
Damage repair system.
Whilst other hairdryers offer ceramic-coated grills, this one offers an outer grill that is coated with ceramic, argan oil, and tourmaline. These elements are proven to work wonders on damage repair to severely damaged hair. 
Diffuser, comb, and concentrator nozzles are great to dry out any hair without ruining its natural texture. For soaking wet hair, it is better to start off by using the comb nozzle. This way the hot air goes through in between the hair to make it dry. When the hair is almost dry, then try using the diffuser if you want to maintain a wave or curl of your hair, or use the concentrated nozzle to create a salon-finished blow-dry effect. Either way, this hairdryer is awesome to dry hair damage free. 
Sam Villa Professional Lightweight Dryer
Whisper-quiet;
Locks natural hydration of hair.
We all know how chaotic it becomes every weekday morning. You have to get ready, bark orders to the kids or the partner, dry your hair, and look presentable and whatnot. Now, all these things become easier as this whisper-quiet hair dryer comes to the rescue. You can talk over the phone or to your family members while drying your hair. This is a simple feature but does a lot for busy ladies. 
Get the salon's perfect sleek and shiny hair every day and look put together. The world does not need to know the struggle you have been through. Because when the hair is good, the day passes well. This hair dryer is very expensive, but as you are looking for something that you can use every day without breaking your hair, you must be prepared to pay the price for it. This hair dryer keeps the natural moisture and artificial color of your hair intact. It won't leave you looking like a frizzy mess after the blowout.
JINRI Professional Ceramic Tourmaline Hair Dryer
Infrared Heat + Ionic + Tourmaline;
Voltage:125V only, 60Hz;
1875 Watts Max Power;
1.46 pounds.
The best feature of this hairdryer is its ergonomics. It is large but lightweight and well-balanced. The handle is placed in the center so that the displacement of the center of gravity doesn't create fatigue on your hand. The only problem is, that the buttons are placed in a way that turns off accidentally if you are not very careful. 
With all the bells and whistles, you will also get useful tutorials to create a sleek blowout and voluminous bouncy look on your hair. It is equipped with an incredible 1875W motor that wonderfully dries the hair without frying. The magic is in the airspeed not in the heat. So use the heat setting wisely and get shiny hair effortlessly.
Final Verdict
No matter which hairdryer you use, you have to keep in mind that if it is not used correctly, it still can damage your hair. Or the machine can give out sooner. Always use the medium to low temperature for hair drying and high temperature for occasional styling.
Finish off using the cool shot button. If you have time, use the cool shot for the entire process. Another thing is, never skip heat protection. If you are concerned enough to follow these rules, you won't have to worry about hair damage anymore.
You Might Also Like: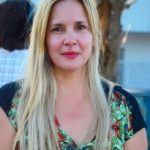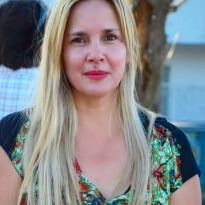 Guys, I am Camila Avery and I love to help my mom to do indoor & outdoor activities. As a lady, I have passed my time on gardening, home improvement, and personal or self-care. I have acquired some degrees in outdoor recreation, beauty, and hair care. It is not easy to work with top-level professional beauty experts. But, I got that opportunity and experimented with different hair extensions, hair colors, and cuts.