Hair extensions can enhance your beauty by adding volume and length to your short and thin hair. But the most important thing you should remember while applying them is they must look like your natural hair.
You may use hair extensions for your own reason but you don't want to expose them to all.
Blending hair extensions with your natural hair and making them look natural is pretty much challenging. But if you follow these simple and basic rules for buying and applying them, they'll definitely look like your original hair.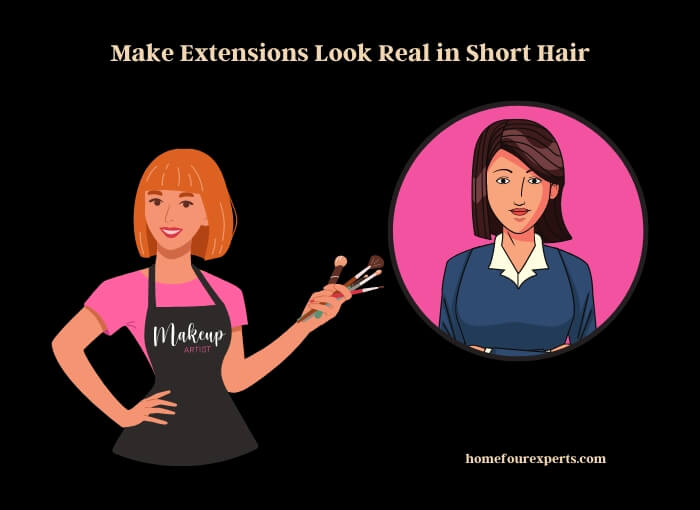 Tips to Make Hair Extension Real in Short Hair
Here we've highlighted some simple and easy steps by following them you'll be able to get a beautiful and natural look with your hair extensions.
1. Get Enough Hair Extension
First of all, make sure that you've bought enough to match the thickness of your hair. This means if you've thick hair, you need a lot of hair extension but if you've thin hair, you'll need less hair.
And even if your hair is short, you need more hair extensions to make it real by covering it up in many short layers.
2. Choose the Right Type of Hair
For making your hair extension look real, you need to choose the right type of hair. For example, if you have thin hair, traditional clip-in extensions won't be the best choice for you. Because they are heavy and weigh down your hair.
If you wear your hair extension on some special occasions, you can choose any seamless thin clip which looks like tape-ins. If you have thin hair and want to implant semi-permanent hair extensions, invites tapes will work great for you.
In short, choosing the right type of extension is the most important step to making your hair extension look real.
Read more: 5 Mistakes Made When Hiding Clip In Hair Extensions
3. Match the Color
For average hair color, you can choose 2/3 shades lighter or darker than your hair color, it will blend well. But if you have different hair color, you need to match the hair extension color with your original hair color. If the extension color doesn't match your hair color, it'll be a dead giveaway about your hair extension.
And in case, you have a unique hair color that doesn't match with any hair extension, simply get a light blonde colored extension and then color it according to your hair color. This is the best way to make your hair extension look natural.
4. Use Extensions with Different Lengths
If you have long or layers of hair, you should buy extensions with two different lengths. A longer one for your long hair and short extensions to blend with your layers. Thus they will look real and blend with your natural layers.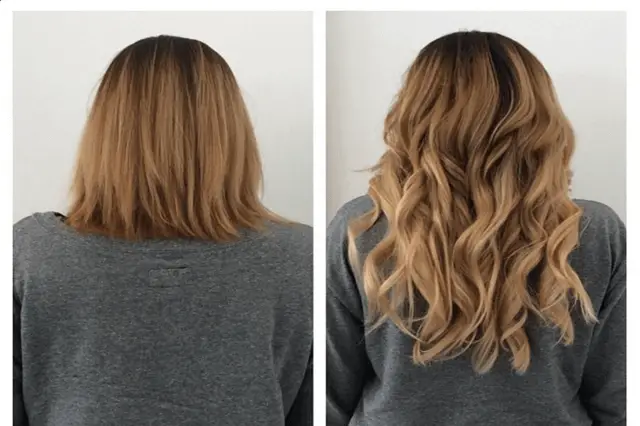 photo credit: http://www.new-haircut.com
5. Get High-Quality Human Hair
You must get hair extensions made with high-quality human hair to make it natural. Fake and cheap extensions will look natural until the first wash, but after a wash, they go dull and frizzy and won't match your hair.
Buying a high-quality human hair extension may cost more but for once. This type of extension will remain the same and look like the real one even after several washes. But if you buy a fake one, you need to replace that extension after its first wash.
6. Go to a Professional Hair Stylist
Now the most important thing you should do to make your hair extension look real is, go to a professional hairstylist. They will cut and adjust the extension to blend with your natural hair making them look 100% natural.
Besides, as you're buying expensive high-quality human hair, you won't want them to ruin by trying them yourself. So the best option is to go to an expert and let them do their best to make your extension natural.
How Can I Make the Extensions Last Longer?
Conclusion
See! Making hair extensions natural is so easy. You only need to stick to these basic and must-follow steps. And you'll get a gorgeous, beautiful look after completing it.
Let's recap, buy high-quality human hair, get the right type, length, and color, get enough hair extensions, and must go to an expert hairstylist. That's it, you'll have a 100% natural-looking hair extension that enhances your beauty.
You Might Also Like: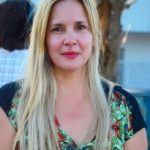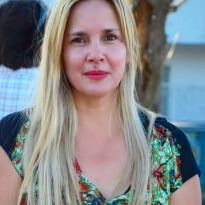 Guys, I am Camila Avery and I love to help my mom to do indoor & outdoor activities. As a lady, I have passed my time on gardening, home improvement, and personal or self-care. I have acquired some degrees in outdoor recreation, beauty, and hair care. It is not easy to work with top-level professional beauty experts. But, I got that opportunity and experimented with different hair extensions, hair colors, and cuts.