Do you remember that time, when people had no cell phones and no wifi? In that time all family members spend quality time together from the present time. Because of our busy lives, we can't give enough time to our family members. In that case, camping is the better option to get together and enjoy or have fun together. 
But, before making a camping trip you have to require good planning.  So building up your planning and going through your plan. It will help you to make a complete camping setup. Now you think, how can you do it? Don't worry! Here we share 15 simple ways to make family camping easy and fun.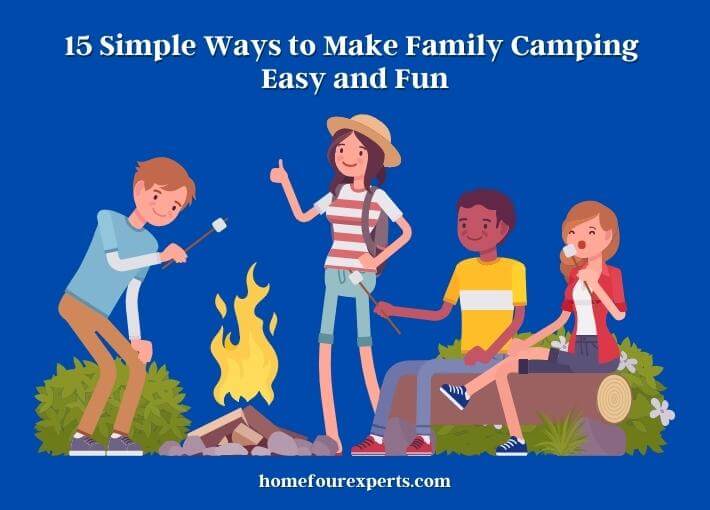 Because we know family camping gives you lots of fun but also will do lots of acts. To relieve this tension we cover up this article in a structure that will make your action easy. Without any doubt, you can follow those tips and enjoy your family time. Let's go to know what things would you add to your list and what would not.
Why Do Camping With Kids?
Mostly, people make family camping for spending a good time on their vacation. But it's also true that your kids get the larger benefit of it. So, it is very important to make your camping trips easier and more adventurous. Nowadays children spend most of their time with several gadgets or the internet.   Give a break and the right reasons to do camping. Through this camping, you can teach them all-important life skills.
What Are Some Ideas for Meals That Are Easy to Make While Camping
1. Grilled cheese sandwiches and tomato soup
2. Chili and cornbread
3. Foil packets with potatoes, sausage, and vegetables
4. Campfire nachos
5. Breakfast burritos 6. Pancakes
7. Quesadillas
8. Hamburgers and hot dogs
9. Campfire calzones
10. Kebabs
What You Gain From a Family Camping?
Camping means a fun time. When it is made by family members then it gives you more benefits for all the members. The oldest members and most younger members all enjoy the outdoors. Here we share a few benefits that will get your family throwing the camping. 
Easily remove your stress. Because at that time you have no working pressure, no meetings. You just relax with your family and the fresh nature. 
Can make a good bonding. When you go camping you will get enough time to make your relationship much stronger by spending a good time.
Camping is good for your physical fitness. Because of a tent set up, hike or firewood, etc, it gives you a good effect on your physical health.
Don't need an alarm clock for waking up. When you are camping you will wake up the chirping of birds and the sunshine.
Closely connected with nature. Ensure that all your family members have the chance to be closely connected with the beauty of nature.
Build up new skills, that are important to have a humane life.
Give learning opportunities. You can easily teach your kids several things like- fishing, hiking, cooking, safety, first aid, etc.
Your child will get the chance to get good growth with confidence.
Make strong family connections.
What Activities Will Make Your Family Camping Easier?
By following a few tricks you can make your family camping more easier and enjoyable. This means before making a camping trip you should make good planning. To make your trip an adventure you can follow our tips below.
1. Choose the Right Campsite
When you plan a camping trip with your family or friends, the first important thing is to select the right campsite. Before choosing a campsite make sure it will suit your family's needs. To make the final destination, ask all family members and give importance to their suggestions.  
2. Help Each Other to Do Packing
Especially the older persons and your kids need help packing. To easily pack all essential things, make a list and pack them. You have to double-check your kids' packing before leaving home. 
3. Keep All Camping Gear in the Same Place
The most important issue is prepping camping gear to make sure it is dry, clean, and in good condition. We have divided the categories of camping gear as-
Bedding;
Tent and shelters;
Kitchen;
Tools;
Miscellaneous.
If those categories are kept well organized then they will be easy to find. Don't forget to ensure that all the items are safe and protected while they are stored. We recommended storing those items in sturdy and durable containers. And it will be easy to move.
4. Cooking Together
Plan a camping tasty and delicious menu. And try to everyone involved in cooking. That's why the cooking experience doesn't have to be boring. You can add to your menu some of your kid's favorite items. Otherwise, you can find some delicious camping food recipes online. You can also make some desserts.
5. Fixing What You Will Learn From Camping
On camping trips, you get a big opportunity to learn new things. Depending on your family members' age level you can be divided into several activities. Here we share a few skills, that you can teach your kids:
Fire safety;
start and put out a fire;
How to use a map;
How can set up a tent;
How to do fishing;
First-aid basics; 
How to cook; etc. 
6. Arrive in Your Tent Before Dark
Setting up your tent or other essentials will be tough when you want to do it in the dark.  So it will be great if you will plan to arrive at least two hours before sunset. Its other benefit is you will get enough time to set up your gear.
7. Safety Is the First Priority 
When you are on a campsite with your family then please set up rules and boundaries. Talk with all members about the importance of boundaries. And what they have to do if they get lost. Make sure at night you have a flashlight or a headlamp.
8. Dispel Larger Objects on Your Tent Site
To make sure you're sleeping in a flat area, have to dispel or remove your large objects. Those larger objects should be like rocks, pinecones, sticks, etc. It will give a thin layer of cushion and make things more comfortable.
9. Plan Games or Others Activities
You can plan interesting games or other activities that will make your camping trip more easy and more fun. Games are one of the great ways for all family members to mix up fun with your day. Also added some additional adventures on your camping trip. There are some game lists that you can plan for your camping trip.
Swimming;
Boating;
Water skiing;
Football;
Kickball;
Baseball;
Bean Bag Toss;
 Bocce Ball;
Sleeping Bag Races;
Play board games and card games;
The Cup Game;
Squirt Gun Fun;
Capture the Flag;
Campfire Songs and so more.
10. Fire Starters
It is a major part of camping. If your fire ring or wood will be damp then the campfires can be harder to get started. You can make this firing process easier by carrying with you a few homemade fire starters.  You should select the place where the fire starter is near the stack. Also, it will be good if it will light up.
11. Go Hiking
A good hike is great for everyone's physical health. Whether you want to enjoy a great view of your camping area, this activity is a multipurpose camping staple. Kids enjoy it very much. They love scavenger hunts and enjoy using nature items. Must use a camera where you keep those memories.
12. Make Clean-up Easy for Everyone
We have to find an easy way to clean up easily while we are camping. You can use a smart storage bin for all your plates, utensils, pots, etc that need to be cleaned each day. And when the time comes for cleaning-up duty, have the kids and all members help! Try to make it a game. Well 
13. Lighting Up the Night
Flashlights are a good choice for more than normal lighting your way through the dark. If you use the light to make shadow puppets on the tent walls, it will increase the beauty of the night. The children are also enjoying it. And you can engage your older child in a flashlight tag game. Don't think your camping is over with the sunsets. Enjoy the night beauty and also check out several nighttime activities. Here we share a few activities below.
Make shadows of puppets;
Go for a nighttime walk or swim;
Can play hide and seek in the dark;
Shoot off fireworks;
Can study the stars;
Tell kids the ghost stories;
Play the truth or dare game;
Sing the campfire songs;
Dance around the fire and play the guitar;
Try to create a new variety of s'mores.
14. Fishing Fun with Your Family
Fishing is a great family outing. So, don't miss it. By fishing, you got two benefits, one is you can catch some dinner and another is it teaches your child the art of patience. It's also a lovely teaching method for kids to learn about the food that comes from where and how it goes to their plate.
15. Relaxing Time
Don't miss the opportunity to recharge yourself and enjoy your experience. When you've arrived you have to do several types of hard work. So, relax in your tent with all members and enjoy all activities like hiking, walking, biking, or reading a storybook. You deserve all this experience.
Safety Precautions to Take When Camping With Children
1. Research the camping area before you go. Make sure it is a safe and suitable environment for children.
2. Bring appropriate clothing and supplies for all types of weather.
3. Ensure all children are supervised at all times.
4. Store food and drinks in a secure area away from wildlife.
5. Make sure campfires are attended to and extinguished before leaving.
6. Teach children proper safety and outdoor etiquette.
7. Carry a first aid kit and know how to use it.
8. Always use insect repellent to protect against disease-carrying insects.
9. Make sure you and your children are aware of your surroundings and any potential dangers, such as sharp objects, slippery surfaces, and wild animals.
10. Have an emergency plan in place and make sure everyone in the group knows what to do in case of an emergency.
Conclusion
The meaning of going outdoors is to gain a unique experience comfortably. Ensure to plan all activities, and involve the kids and all the members. And enjoy nature and create good memories that will be memorized for a lifetime.
Camping is a way to get you away from your everyday life routine. Also away from work, TV, computer, etc. You can spend quality time with your family. So, why are you waiting? Get the plan for your next vacation.
Thanks for being with us. Hope this article will help you to make your family camping easy and fun. Don't forget to leave a comment. And after camping, you must share your experience with your friends. Best of luck with your next trip.
Relevant Resources: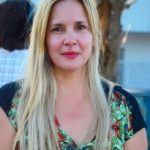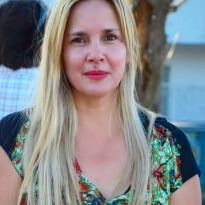 Guys, I am Camila Avery and I love to help my mom to do indoor & outdoor activities. As a lady, I have passed my time on gardening, home improvement, and personal or self-care. I have acquired some degrees in outdoor recreation, beauty, and hair care. It is not easy to work with top-level professional beauty experts. But, I got that opportunity and experimented with different hair extensions, hair colors, and cuts.