The need for outdoor storage is versatile, as the options. There is simply no alternative other than a waterproof and spacious storage cabinet from the barbecue, parties to store brooms and ladders, or just stuff pillows.
Choosing a simple cabinet gets more challenging when you realize that there are millions of market choices. So, we are here to rescue you from that hassle.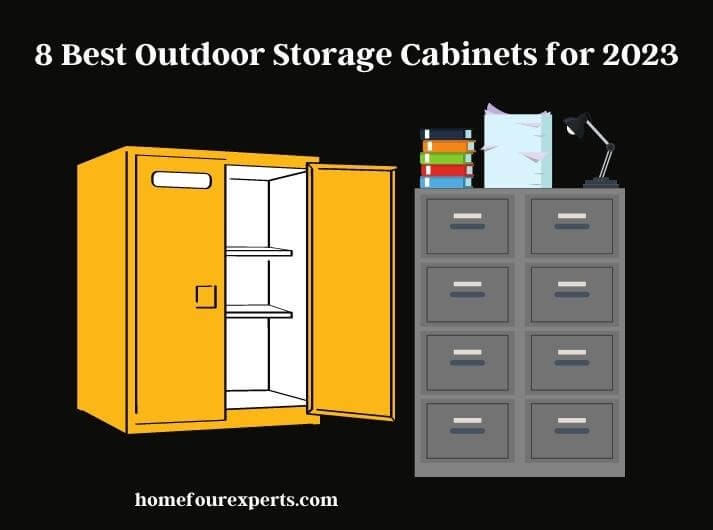 In our outdoor storage cabinet list, you will meet the best 8 choices for storing different items. Because we considered the different needs of using a cabinet and also considered people's budget and space constraints for choosing one. 
So, don't miss our hot tips for choosing an outdoor cabinet. It will give you the idea of how to shop for a cabinet to ensure that your money is well spent.
What to Consider to Select an Outdoor Cabinet?
Space on Patio/Yard
First of all, you have to consider the space you have on your patio or in the backyard. Is it already crowded with garden chairs, potted plants, and so on? Or is it too small to have a whole set of sitting arrangements? If it is vast then you have the freedom to look for a big cabinet.
The struggle is left for people who live in a studio apartment and have a tiny balcony. Or a small house with an even smaller patio. In this case, you have to look for multipurpose cabinets, expandable, take less space, and provide vertical storage.
Read more: Looking for the Best Sun Shelter for Windy Beach? Here is an expert's analysis.
Cabinet Dimension
Of course, the more space it has inside the better. But here you have to be thoughtful. If you are using the cabinet for storing kitchen supplies to use during an outdoor party, then you must look for storage capacity outside the cabinet as well. In our list, you will find this kind of cabinets for large and small patios and for different budget ranges. 
Purpose
Are you looking for a cabinet to organize garden supplies? Or you want to use a small cabinet so that it can double as a side table? Or you just wish for a cart station to serve food or hide the ugly garage tools?
The uses are endless for a storage cabinet, so you have to determine the purpose first. The design of a cabinet changes drastically from one another because they serve different purposes. 
Material
The cabinet is usually left outdoors for a long term, for days, or even for years. For that reason, it has to be waterproof to make it a safe storage option to keep the interior dry throughout the year. On the other hand, the plastic material needs to be high quality to retain its shape even under high heat for years.
Usually, the resin material is known to be the best as an outdoor cabinet material. In our list, we have listed all the cabinets that are resin-made. If you pick your cabinet from stores, you must look for its material carefully.
View Some of Popular Outdoor Storage Cabinets-
1. Keter Unity Outdoor Storage Cabinet with Stainless Steel Table Top
48. 7 L x 21. 2 W x 35. 4 H inches;
Storage capacity: a total of 78 gallons.
In my opinion, in every way this storage cabinet is the best choice for every family who loves to party outdoors. It has all the weather-resistant properties and spacious design to store all the supplies within reach.
Thanks to the stainless steel tabletop; it's easy to clean after food preparation so that you can also use it for serving too! On the other hand, the spice rack and kitchen towel holder are great to keep these things within reach. Moreover, the space under the tabletop increases its useability to keep other necessities. 
The lockable closed cabinet has a shelf that you can use to store your utensils after use. It is made from a resin material and completely weatherproof. So, utensils or other items will not be damaged due to moisture or the sun.
Just make sure you don't leave the cabinet under the sun forever. It may rust out or even develop dents. I recommend bringing the cabinet back home when you are finished with your outdoor bbq parties of summer. It not only adds up storage space at home but also lasts longer as well.
Pros
Weather sealed cabinet;
Best for bbq party;
Elegant design; 
Easy to assemble.
Cons
The top will rust if left outdoors.
---
2. Suncast Commercial Shed Cabinet for Indoor or Outdoor Use
Dimension: 20.25″D x 30″W x 36″H;
Available color: brown and white.
Versatile storage.
This one is a low-profile multipurpose cabinet with an adjustable shelf within. This cabinet is trustworthy for keeping gardening supplies neatly or keeping the pillows and cushions you use on the patio lounge clean. 
You can also put swimming supplies or outdoor sports supplies in it. The possibilities are literally endless. 
The weaving texture and dark brown color on the cabinet create a rattan look, but it is made of polyresin for your convenience. Meaning that everything will remain bone dry whatever you store in it, even if it is left under a downpour.
You can use the top of the cabinet as a seat for being low profile, with some padding on top or decorated with potted plants. 
Another benefit of a low-profile cabinet is that it perfectly fits any corner without creating any obstacle or interrupting any view.  
Pros
Multipurpose use;
 Durable handles;
Heavy-duty;
Low profile;
Space-saving.
Cons
---
3. Keter Storage Cabinet with Doors and Shelves
Weight: 44 lbs per shelf;
Customizable: Arrange 4 shelves with ease;
Dimensions: 26.77 x 14.96 x 67.32 inches.
Though the title says it is for garage tool organization, this tall cabinet is useful for hanging any long tools like a broom, mop, and gardening items. There are adjustable shelves in it for smaller items. 
The good thing is, there is still some space left on the front so that you can keep longer items without removing shelves. 
It is made of polypropylene resin, a material that keeps the cabinet nice and intact, whether it rains or shines. The doors are entirely lockable to keep the materials in them safe from theft.
The only drawback of this cabinet is, the instruction is quite hectic. If you are not used to assembling outdoor cabinets, you should seek help from online tutorials or other users. 
Once assembled, this cabinet is great to last for years to come.
Pros
Lightweight;
Space Saving design;
Maintenance-free;
Suitable for long items.
Cons
---
4. Rubbermaid Vertical Resin Weather Resistant Outdoor Storage
Dimensions: 25 x 30 x 72 inches (LxWxH);
Weight: 66.9 pounds.
Size perfect for outdoor storage, this Rubbermaid shed is durable and easy to assemble.
A great solution for a tightly packed outdoors when you have guests all around. This meal station will serve you the best way without compromising the space. 
This one will work best for the small balcony of a studio apartment. You can still have the feeling of partying on the yard right into your balcony. 
There are two separate cabinets underneath the cart counter and includes a removable tray. It provides ample storage to keep plates and glasses underneath and serve food on the top. 
A perfect solution for a buffet for your guests or just tea time with your family on a lazy summer evening. Either way, you can not go wrong with this black beauty.  
Pros
Lightweight;
Expandable top table; 
Low-cost solution.
Cons
---
5. BS Lockable Storage Cabinet Outdoor
Dimensions: 18.87″D x 25.62″W x 69.37″H;
Weight: 40 Pounds.
Don't mix this one up with the previous one. The cabinet from NanaPluz was meant for use as a meal serving station during outdoor parties, while this one is a smaller version of it and only can be used as a patio station. 
You can use this to cut veggies while sitting outdoors or use it as a table to put your coffee mug on it.
The same goes for the storage underneath it. It is super small, only enough to support a small family and a tiny patio. I love its minimalistic size and design. 
The combination of off white and coffee will not clog up a small patio like other bulky cabinets. 
For logical reasons, this one is also priced less too. I don't see the need to purchase a large and expensive cabinet to use on a small patio when a small one is enough. 
Pros
Suitable for small deck/patio;
Includes rolling wheels;
Budget-friendly price.
Cons
Read more: Do you wants to read more about Best Canvas Wall Tents for All Season – click here
---
6. Suncast – Outdoor Storage for Long Handled Tools and Garden Accessories
32.28 x 25.59 x 72.05 inches;
Multi-wall panels.
If a tall and large cabinet can hold all your outdoor belongings, why buy several smaller ones? This one cabinet is probably the solution for storing all the outdoor gear, accessories, sports, tools, and other items.
It arrives without any shelves or treys so that you can use it to store a ladder, bike, surfing boards, and similar items. You can also choose to purchase the shelves separately to store smaller items neatly. Then you should sum up the cost of the shelves as well.
This unit is super easy to put together and even easier to maintain. It is weatherproof, so there is nothing much to maintain from time to time. The walls are multi-paneled to keep the stored items UV protected and moisture-free.
It costs higher than other storage cabinets on this list for its sheep size. It takes up a lot of space, but the vertical storage capacity makes up the cost you spend on it. For an extra-large outdoor space, this large cabinet can beat other competitors.
Pros
Durable;
High storage capacity;
Low maintenance;
Easy to assemble.
Cons
Shelving needs to be purchased separately;
---
7. ADDOK Vertical Storage Organizer
Dimension: 50 in. L x 29 in. W x 82 in.;
Shelves sold separately.
Basically, it is not designed as an outdoor storage cabinet. In fact, it is a folding table with storage underneath that you can use only occasionally. 
However, the table is great to carry around in a picnic, camping, soccer match, or even parties to use as a food station or dining table with storage. You can literally shove it behind any shelf to hide when not in use. 
The table height is adjustable. You can use it as a dining table in the lowest setting or use it to serve food for a buffet. Just like the lighter weight of this table/cabinet, the price is also the lowest in this list. Even if you have a vast backyard, you will still need one of these portable tables to use away from home. 
Pros
Weather-resistant;
Zero maintenance;
Thicker plastic material (HEDP);
Colorfast;
Moisture resistance.
Cons
Low weight storage capacity.
---
8. Rubbermaid Outdoor Storage Shed
Made of durable resi;
Weight: 269.64 Pounds;
To cover all the outdoor needs of a mansion or a vast establishment, even a dozen small storage cabinets are not enough. This cute shed perfectly serves the purpose and makes the yard look expensive. 
Yes, you got me right; this one is the most pricey one amongst all the storage solutions we have talked about for your outdoors.
If you have a reluctant budget and a huge space backyard, this one is the right storage. Long-handled tools and oversized items like bikes and lawnmowers, this enormous shed is wisely designed. 
Its shingle-style roof lengthens the height, and the windows and skylights provide ample light in the daytime.
The walls are multi-paneled to save the stored items from the sun and storm. Please note that an average yard or small patio cannot put up something like this as a storage cabinet.
Pros
Wide, double door entry;
Durable: leak-resistant;
Weather-resistant;
Lockable doors.
Cons
---
FAQs
Is It Okay to Leave Patio Cushions Outside?
The cushions are showerproof instead of waterproof and thus will take in water and ultimately be ruined. If you've left your garden cushions outside for a couple of days accidentally, then provided you bring them into the garage and allow them to dry off, there should be no long-term damage done.
Will Tempered Glass Break in Cold Weather?
Tempered glass is more robust than regular glass. So, any furniture you've got made out of tempered glass should withstand the cold of winter. It can break like all other glass furniture when exposed to blunt force or extreme fluctuations in temperature.
Conclusion 
I hope your search for a reliable storage cabinet to use outdoors ends here. To be honest, the available options are endless but only a handful are trustworthy. Choose your cabinet wisely so that it lasts your lifetime.
You Might Also Like: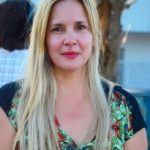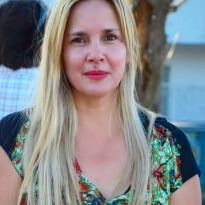 Guys, I am Camila Avery and I love to help my mom to do indoor & outdoor activities. As a lady, I have passed my time on gardening, home improvement, and personal or self-care. I have acquired some degrees in outdoor recreation, beauty, and hair care. It is not easy to work with top-level professional beauty experts. But, I got that opportunity and experimented with different hair extensions, hair colors, and cuts.