What to wear while camping in the fall? Quite a tricky question to answer, right? But, hold on! We've got your back.
Fall weather can fluctuate a lot, from a sunny sky to a gloomy one with a thunderstorm in one splash of the moment. So, if you don't want to get yourself trapped in mud and rain in the middle of your camping trip, being prepared is the best thing you could possibly do!
So, this article provides you with the must-have fall camping wearables so that you can prepare yourself for your next fall trip.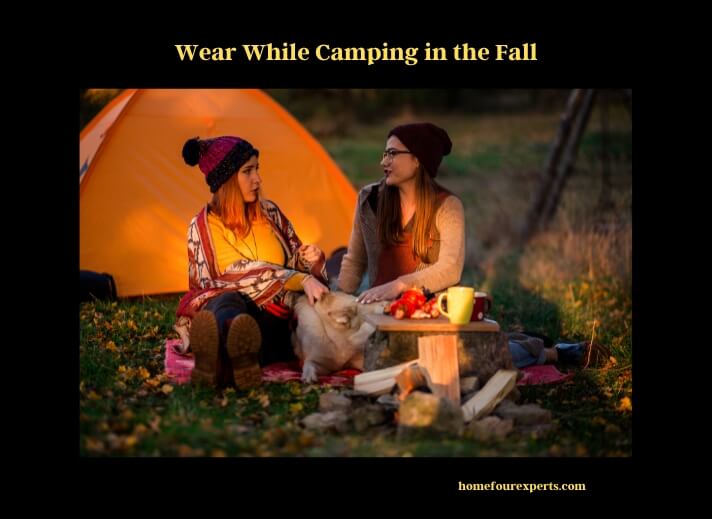 Fall is a great time to camp. That vibrant changing nature, cool breeze, less crowd, and fewer bugs, what not to enjoy!
Fall Camping 
Fall has the most vibrant and scenic views of all seasons. Nature has its own story to tell at this time of the year.
So, if you haven't camped yet in the fall, you are surely missing out on the best views and a spectacular time to enjoy the outdoors.
Though sudden rain and storms could interrupt your plan, pre-planning can make it easier and avoidable.
Also, you should bring weather-reasonable clothes to keep yourself warm, dry, and comfortable. Because it's better to be prepared than to be miserable.
So, what to wear while camping in the fall? 
Here are some fall camping wearables that you mustn't miss for a peaceful and comfortable camping experience.
Fall Camping Checklist: What To Wear
Here, we've prepared a list of fall camping wearables for you so you could be prepared for your next fall camping!
Layering Clothes (T-shirts, jacket/sweater, overcoat)
Rain Jacket
Hiking Boots and Cotton shoes
A Hat or a Beanie
Gloves and socks
Camping Blanket
Scarf
Sunscreen
1. Layers- Wear Clothes in Layers to Get Warmth
The best thing about layering is it gives additional warmth that you won't get wearing a single overcoat.
Layering is the best option to keep yourself warm outdoors on a chilly night. Moreover, it helps you to choose the piece of clothes you wanna pick without overweighting your backpack.
Now, you can create that in three separate layers- base layer, mid-layer, and lastly, an outer layer. In the base layer, you should wear something light and breathable.
No! Don't wear cotton as your base layer. Now, why is that? Check out the FAQ section.
In the base layer, wear a t-shirt under a full sleeve shirt. A pair of leggings could be used as a base layer under your hiking pants.
You can pick among light jackets, fleeces, or sweaters in the mid-layer, depending on the temperature of that moment.
When choosing an outer layer, pack the water and wind-resistant one, like a rain jacket. Or, you could wear a vest as well if the weather is sunny.
The vest goes well with your fall wardrobe. A zippered vest is easy to put on and off. You have so many color options to choose from and are so versatile to wear with anything.
For the lower part, a pair of water-resistant hiking pants should be okay. You could bring a few pairs depending on your stay.
2. Rain Jacket- Rain Jacket for an Unpredictable Weather Situation
While camping in the fall, the weather can be gloomy, or you may face a sudden shower. For being prepared for those situations, you just need a poncho or rain jacket and pants.
So, never forget to bring your rain gears while camping in the fall or even in summer. Also, you can use it as a warmer at night. You should choose the one that is lightweight and dry quickly.
3. Hiking Boots- Must Be Waterproof, and a Pair of Cotton Shoes!
Hiking is a great camping activity to enjoy nature. If you plan to hike, you'll have to bring your hiking boots. You can also take short easy hikes!
Hiking is walking through the trails in the mountains or forest.
According to Wikipedia, hiking is a long, vigorous walk for pleasure, not only by general people but also the religious pilgrimages in long distances, often for spiritual purposes. But if you're not that much into it, you can take short easy hikes as well!
As you will walk a lot, you'll need boots. And as we're talking about the unpredictable weather, your hiking boots have to be waterproof that may keep your feet dry and warm.
We recommend not to bring your regular gym shoes, as they will get dirty. Good quality boots are sturdy, lightweight, waterproof, and you can even use them in the snow.
Also, bring a pair of lightweight cotton shoes so that you don't have to wear your heavy hiking boots all the time. Read more: 6 Great Ideas for Camping Pillow Alternatives
4. Hats- a Hat or a Beanie?
Put a beanie and a hat in your backpack. Whether it's cold or sunny, you'll need both. On a sunny day, a summer hat can save you from heat and sunburn. And in cold and windy weather, a beanie can keep you warm and comfortable. Pack your favorite hat according to the weather demand.
5. Gloves and Socks!!
To keep your hands warm, you'll need a pair of gloves, or you can use a pair of mittens as well, whichever you prefer. In cold weather, a pair of woolen socks will keep your feet warm. Oh! And don't forget to take extra pairs.
If you go camping in early fall, you may only need them at night. But from mid to late fall, you may wear them as necessary, even in the daytime.
6. Bring a Warm Camping Blanket
An excellent camping blanket will keep you warm on a chilly evening. There are blankets on the market with zippered pockets. You can keep items like- keys, wallet, and even phone to get them when necessary. Wrap yourself up in a blanket, wear a hat and enjoy the time with your loved ones sitting by the fire.
7. Scarf!
Wear it around your neck, or keep your hair in place wearing on the head: both ways, the scarf works.
8. Sunscreen
Last but not least on our list! Keep yourself safe from UV radiation by wearing a good amount of sunscreen. It prevents the damaging rays of the sun, protecting you from skin diseases.
No matter what the weather looks like, sunny or gloomy, don't forget to apply sunscreen. Because you can still get yourself sunburned in the cool fall air.
FAQs
Can You Camp in the Fall?
Fall is a great time for camping. The vibrant nature, cool air are perfect for camping. Also, there will be less crowd and fewer bugs to disturb you from enjoying the surroundings. Also, the temperature is soothing, not so hot, or freezing.
What Type of Clothing Should I Bring to Keep Warm?
It's always a good idea to dress in layers when you need to stay warm. You should bring items such as a long-sleeved base layer, a fleece or wool mid-layer, and a waterproof outer layer. A beanie or other warm hat and a pair of gloves can also help to keep you warm, as well as insulated and waterproof boots.
Why Is Cotton Terrible for Cold Weather?
Cotton does not give proper insulation to your body. It absorbs moisture and keeps you cool. In a cold-weather, you must avoid cotton clothing. Instead, choose from silk, wool, or synthetics like- polyester, fleece, and nylon.
Moreover, wearing cotton, you'll feel cold when the air is colder than your body temp. So, keep the cotton for summer.
What Type of Footwear Should I Wear While Camping in the Fall?

If you're camping in the Fall, the best type of footwear to wear is waterproof hiking boots. You want to make sure your feet stay dry and warm, and boots with good ankle support will help to reduce the risk of injury.
Conclusion
So these were the fall camping wearables you can pack for your next fall trip. Pack lite for your camping trips to make it more enjoyable, but don't miss the necessities and give a quick look at the checklist so that you don't forget anything important.
Nature is the most vibrant at this time of the year. So, enjoy your camping with comfort and without getting sick. While you cannot predict the weather's roughness, be prepared for everything and have a good time without being bothered about the sudden rain. Because you've already got your necessary supplies, right? A happy fall camping to you!
Read more: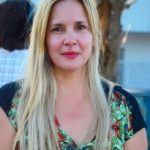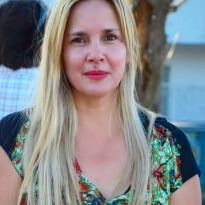 Guys, I am Camila Avery and I love to help my mom to do indoor & outdoor activities. As a lady, I have passed my time on gardening, home improvement, and personal or self-care. I have acquired some degrees in outdoor recreation, beauty, and hair care. It is not easy to work with top-level professional beauty experts. But, I got that opportunity and experimented with different hair extensions, hair colors, and cuts.