This article includes affiliate links, which means we may earn a commission if you make a purchase following our link. Please refer to our review guidelines.
Usually, cordless drills are available in two options- 12v and 18v. The 18v cordless drill delivers the same power as corded drills without the hassle of managing the cord or looking for the power source. There are numerous options to choose from if one decides to get an 18v cordless drill for their needs. Firstly, the selection is based on the job type, and secondly, it also needs to fit the budget.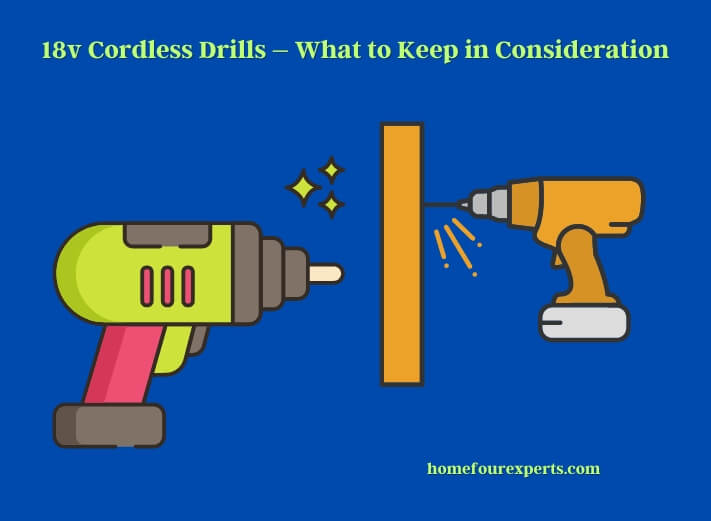 Considering all the aspects of our readers and potential users of 18v cordless drills, we have conducted a list of 12 models for the best quality cordless 18v drills, drivers, impact drivers, and hammer drills. 
All the units are suitable for quality, functionality, the included accessories, and the budget range. People with every budget range and to use for different purposes, everyone can get a hold of the best drill their money can buy.
What to Keep in Consideration While Choosing an 18v Cordless Drill
Choosing power tools online can be confusing. The power, balance, warranty, and altogether, the insurance of getting all the parts in one box gets uncertain. Here are some tips to make choosing any cordless drill online more satisfactory. 
Balance
The most important matter in choosing any power tool online or offline is its balance. Usually, these tools are heavy and come in small shapes. So, using these tools for an extended period may become stressful if the ergonomics is poor.
So, we highlighted the weight, balance, and ergonomics of each 18v cordless drill and the drivers we have enlisted here. It should help anyone compare those units and make the right decisions. Read more: Cordless Screwdrivers You Can Buy
Features
The small features of the tools should not be left unnoticed. LED, belt clip, onboard magnetic tray, comfortable grip, etc. minor add-ons can become bigger issues if stopped functioning properly. So, the more convenient the features of the drill the better. 
Purpose 
There are three types of drills concerning the purpose of use. Light duty, light to medium duty, and heavy-duty are the three types of drills and drivers. Selecting the right tool for the right purpose is important. Choosing a heavy-duty drill for making small holes on drywalls may seem costly, always knowing the warranty policy before the purchase, and using a light-duty drill for heavy use may make the drill break sooner. 
Included Accessories
Some cordless drills/drivers are sold separately, some with batteries and some as a complete set of combo or kit. Those who already own the battery and charger will not want to invest in a complete set unnecessarily. On the other hand, those who are beginners may need the entire kit so that they don't need to go through a trial-and-error process to get the right attachments. See also: Benchtop Drill Presses for Metal
Battery and Charger Compatibility
If you already own an 18v battery and charger and want the cordless drill only, then it is important to figure out if the battery is compatible with the tools you are going to purchase. There are two types of 18v batteries- Li-ion and Ni-cad. Besides, some manufacturers launch their own line of products that only suits their battery and charger. So, better get checked out later. 
Is an 18v Cordless Drill Powerful Enough for Heavy-duty Tasks
An 18v cordless drill can handle many heavy-duty tasks, but it may not be powerful enough for the most demanding jobs. The power of a cordless drill is measured in volts, and 18 volts is considered a strong level of power for a cordless drill. However, some heavy-duty tasks may require a drill with more power, such as a drill with 20 or 24 volts. It's also important to consider the torque the drill can produce, which is a measure of the drill's rotational power. A drill with higher torque will be better suited for heavy-duty tasks.
Our List of 18v Most Promising Cordless Drills
Power tools come in different packs by the same manufacturer. Some offer their tools with additional accessories at a cost-effective price to capture interested customers and also sell their items from other ranges. Some offer only the tool so that people can get that as a replacement for their broken tools.
So, different packs from renowned manufacturers have been researched and then incorporated into the following list. It should help everyone get their preferred pack for effective use of an 18v cordless drill.
Makita 18V Cordless Driver-Drill Kit, XFD131
0-500 & 0-1,900 RPM speed;
Max torque: 440 inches pounds;
Model: XFD131, ½'' driver-drill.
The show-stopper for today's list of 18 V cordless drills is Makita XFD131. It is lightweight, well-balanced, impressively powerful for a cordless drill, and a combination of drill and driver. Besides, it is equipped with a charger that charges the battery within half an hour with virtually no downtime. The battery gets fully charged as the machine cools down. What else do we look for in a cordless drill after all? 
There are other convenient features available in this model. For example, an LED illuminates the workplace, and its compact size helps to work hard to reach places. Unbelievably, with the battery, the entire unit weighs only 3.8 pounds. There is no question of stress or fatigue on hand after prolonged use. 
The forward or backward driver switch is located near the handle, which may accidentally turn on while holding the drill. Otherwise, as it is a Makita product, the durability of this unit is already proven. Professionals are willing to pay a handsome amount for this handsome unit, but there are other budget-friendly options on this list for homeowners or DIYers. 
Advantages
Versatile use;
Long run-time per charge;
Superior ergonomics;
Driver and drill options.
Keep in mind 
Inconveniently located switch.
---
Milwaukee 18-Volt Brushless Cordless Compact Drill/Driver, M18
Model: M18;
0-450/0-1,800 RPM speed;
Provides 500 in-lbs. of torque.
For the same performance as the former Makita cordless drill, this Milwaukee M18 is the best alternative at an affordable price. Besides, a gear case and 1/2″ metal chuck is also included at this price point. The only drawback is, you have to collect an M-18 battery to run this beauty on your own; this pack does not offer one. 
However, M-18 batteries are usually available at every home and workshop. Those are cheap as well, so it shouldn't stop anyone from getting this powerful driver/drill. Long battery life is a must for the effective usage of a cordless drill. This model offers exactly the power and runtime professionals need when they are dealing with a cordless tool. 
The high torque and high-quality parts are the keys to using this unit for heavy-duty use. Unlike other competitors, this one accepts ½ inch bits. So, it was way more versatile than those of  ⅜ inch chucks. The patented REDLINK™ intelligence on Milwaukee tools protects the tools from being overheated or overloaded. So, it also ensures a longer tool life. 
Advantages
Overload and overheat protection;
Fast charging;
Well balanced;
Powerful torque. 
Keep in mind 
---
Milwaukee M18 Cordless Drill/Driver Kit, 2606-22CT
M18 compact 1/2 inch drill driver, M18 and M12 Multi-V Red lithium compact batteries, charger, and hard case included; 
500-inch-pounds torque.
The former option for a tool-only cordless 18v driver-drill from Milwaukee in this list may seem alluring for users who already own the required battery. For others, a complete set of kits to run the tool is needed. In consideration of those users, we have incorporated this pack into our list.
This pack includes a highly durable Milwaukee drill/driver that can be used for heavy-duty purposes. It also includes a charger and a pair of two different batteries, one is an 18v battery, and another is a multi-volt. The multi-volt battery is useful to work on not only this drill but also other cordless power tools as well. The benefit of having two batteries is that when one battery is underused, another one can be left for charging.
Both batteries need merely 30-minutes of charge time. Just like the tool, the batteries also last for ages. For more convincing remarks, this cordless 18v drill is protected by REDLINK intelligence against overuse. With only 7-1/4" of length, this one is the most compact, heavy-duty cordless 18v drill/driver one can ever find. 
Advantages
Suitable for heavy-duty use;
Fast charging batteries with long life;
Backed by long warranty;
Long-lasting power tools.
Keep in mind 
---
Metabo HPT Sub-Compact 18V Cordless Drill (DS18DDX)
Voltage 18 Volts;
Speed 1700 RPM;
485 in-lbs of torque;
Maximum Chuck Size 13 Millimeters;
Include compact driver-drill, 1.5Ah Batteries, Charger, #2 Phillips Bit, & carrying bag.
For a complete set of batteries, charger, chuck, and convenient clutch and trigger to use with a powerful driver/drill, Metabo HPT is the smart solution. The included 1.5Ah Batteries, charger, and variable speed trigger give this cordless driver drill unmatched ease of operation. So, it is highly recommended that homeowners look for a complete set and avoid the hassle of spending on loose accessories. 
Some may find this unit non-reliable for its price. But the lifetime warranty for the driver itself and the two-year warranty for the li-ion battery speaks for this model's longevity. It remains the same for the entire charge life. 
A carry case full of handy high-quality tools is a basic need to regularly do around-the-house jobs. Where quality and convenience are not compromised, Metabo is always the top favorite among its users. 
Advantages
Complete set at an affordable price;
Easy to operate due to trigger and clutch;
Versatile and compact.
Keep in mind 
Batteries may not last long.
---
Metabo 18V Hammer Drill and Impact Driver Combo, (KC18DBFL2T)
In the pack: a hammer drill, an impact driver, an 18V 3.0Ah battery, a Multi-Volt 5.0Ah battery, a charger, a pair of Phillips bits, and a carrying bag;
Impact Driver 
The mighty impact driver in this pack delivers 1,522 in-lbs of torque. Its maximum speed is 3,100 RPM and 3,400 max BPM. Together, these variable speeds make this tool suitable for a variety of applications. All in all, it's 1/4 In. The toolless hex drive is bliss for quick and hassle-free driver bit replacements. 
For your concern about its ergonomics, this beast only weighs 2. 9 lbs even with the 3. 0Ah battery attached to it. It is also equipped with LED, which lights on when the tool roars so that the application becomes more accurate. 
Hammer Drill
Don't underestimate the hammer drill of this pack for the overly powerful impact driver because it applies 620 in-lbs of maximum torque. When required, this one can produce variable speeds up to 1,8000 RPM. 
Just like the impact driver, this Metabo hammer drill is also equipped with a 1/2-inch keyless all-metal chuck. Needless to say, it is useful for fast and easy bit replacement. A 5. 0 Ah Multi Volt battery is already offered with this package to operate this amazing drill. With the battery, this drill won't weigh more than 3.7 lbs. The weight is properly distributed for prolonged and comfortable use. 
Advantages
Cost-effective combo set;
High-quality hammer drill and impact driver;
LED on both tools;
Lightweight and good balance;
Multi-volt battery is compatible with any 36V and 18V platforms.
Keep in mind 
Wobbly selector & trigger switch. 
---
Pink Power 18V Cordless Electric Drill for Women – PP182
Pack includes a tool case, 18 Volt drill, charger, and 2 batteries.
3/8" keyless chuck;
16 torque setting, 0-550 rpm speed.
Considering the need for the lady boss of the home, Pink power has brought an amazing range of power tools socially for women. The main difference between these tools from other random tools is, they are less bulky, lightweight, comfortable to hold for delicate hands of women, and are available in standout colors. 
So, this drill/driver is an excellent option as a present to the homemakers. The soft-grip handle is made to make it comfortable for women. It is light-duty and lightweight (3.5 pounds with battery) too.
For doing around-the-house jobs like redecorating, making holes for picture frames or curtain rods, or hand hooks and organizers, this pink drill is all she needs to conquer. There is a magnetic tray attached underneath the drill so that no nails or screws are left stranded while doing the job.
​The entire toolset price, which includes everything, is half of the bulky and heavy tools mentioned above. One thing I want to notify you about this one is not for heavy-duty use. Other than this, it is a decent set of 18v cordless drills/drivers for women to use comfortably. Some have also found it effective to use as a cleaning tool by attaching a dryer vent brush to the drill. 
Advantages
Budget-friendly;
Variable speed and torque;
Suitable to use in hard-to-reach places;
Comfortable to use for women;
Ultra-light.
Keep in mind 
---
Pink Power 18 Volt Cordless Drill and Screwdriver with Batteries
The combo kit includes an 18V NiCad power drill, 2 NiCad 18V batteries, a 3.6V electric screwdriver, a tool case, battery chargers specific to each tool, a 12 pc drill bit set, and a three-year warranty card;
Speed settings 0-500 RPM variable speed.
Another marvelous combo kit from Pink has gained its placement for its extraordinary features. This one is a combo of a 3.6 v screwdriver and an 18v drill. Both are cordless and run on separate batteries, and require separate chargers. All this equipment and a set of drill bits are incorporated into this package for self-sufficient cordless drill and drive application needs.
The screwdriver has a patented design on its head. It has a conventional pistol grip design, but it can be bent to 180 degrees so that the driver reaches the tightest spots where other drivers fail. Both batteries have a battery gauge so that the operator does not need to rely on intuition while operating. Both the driver and drill weigh less than 3.5 pounds for comfortable overhead and prolonged applications. 
Advantages
Excellent pivoting head to reach tight places;
Lightweight;
Combo drill and driver kit.
Keep in mind 
For light to medium use only.
---
Ryobi 18V Lithium-Ion Battery Powered Brushless Drill P252
Speed: 1,800 RPM;
1/2 inch drill driver;
Features magnetic tray and adjustable clutch.
People out there who already own Ryobi one+ tools already know the convenience and quality of all the tools from that series. The most notable matter is, any Ryobi one+ battery is compatible with all the tools, and no one needs to pile up loads of Li-ion batteries to run all the tools. It is also a pain to find the right battery when the tool is required. 
So, there is a simple solution to this problem. If you already own a Ryobi one+ battery and charger, this 18v cordless drill can be way more reasonable for you to have compared to any other brand. There is no battery included in this package, so the tool is only priced very reasonably. 
This one delivers 1800 RPM variable speed and is also powerful and sturdy enough to do light to medium jobs around the job site and home. There is an adjustable clutch to operate this drill in precision, and an onboard magnetic tray is like a cherry on the cake for amateurs and DIYers. Get the tool without exceeding your budget; get the Ryobi one+ drill. 
Advantages
Compatible with any Ryobi one+ battery;
Affordable;
Convenient features for light to medium use.
Keep in mind 
---
Genesis 18 Volt Variable Speed Drill/Driver Kit, GCD18BK
3/8-inch chuck, hard Shell carrying case, 13 pc bit assortment, Ni-Cad battery, charger, and many more;
0-500 RPM;
On-board Bubble Level.
The high prices from name brands seem absurd and out of budget. Have a look at this Genesis cordless drill come driller kit set. It delivers the same performance without breaking the bank. It produces variable speeds up to 500 RPM to accomplish regular jobs around the home and DIY projects.
This unit is especially suitable for home use. It comes with an onboard bubble level that helps to align the drill and driver horizontally. The 16 Position Torque/Clutch Settings and the electric brake works like magic to operate the variable speed properly.
The drill is bulky and heavy compared to other models with the same features. So, it is supposed to last long. But considering the speed and power, this one is not recommended for heavy professional use. In that case, this one may not survive long. 
Advantages
Budget-friendly price;
Complete set with necessary accessories;
Variable speed for versatile use.
Keep in mind 
---
Metabo HPT 18V Cordless Driver Drill, DS18DBFL2QB
Torque: 620 inches per pound;
22+2 clutch settings;
Two-speed setting-low (0-400) rpm; high (0-1800) rpm.
Metabo is one of the most popular and widely used brands when it comes to power tools. It is because they launch superior quality products at an affordable range. This 18v cordless driver drill kit is no different. It includes a professional-quality cordless driver drill, batteries, and a charger. All the things are from Metabo and are equally great quality. 
Now, the leading performer, the driver drill is a beast due to its high torque and speed. With 620 inches/lbs torque and up to 1800 RPM speed, this one is suitable to do any driving or drilling jobs in no time. The keyless ratcheting chuck makes changing drill bits fast and simple and also makes a secure hold. Besides, the on-tool battery indicator, LED, and compact construction of this unit altogether make it an allrounder. 
Advantages
Affordable;
Backed by a lifetime warranty;
Small, compact, and lightweight;
Powerful enough for heavy use.
Keep in mind 
---
Metabo HPT DS18DDX 18-Volt Cordless Drill
Variable speed: Up to 36% more speed at1700 RPM;
Maximum Chuck Size 13 Millimeters;
Weights 1. pounds;
Includes Compact Driver-Drill, (2) 1.5Ah batteries, (1) charger, (1) #2 Phillips bit, and (1) carrying bag.
As mentioned earlier, mechanics and users who already own Metabo HPT DS18DDX one + tools, batteries, and chargers do not need to invest in the driver kit packages. So, this pack is only for those who need the tool only. And for your kind information, this one is not a beginner's toy. Due to its variable and high speed, this one can withstand any abuse thrown at it. 
About the ergonomics, I would like to mention that this one is the lightest cordless driver drill I have encountered while researching for developing this list. It only weighs about 1.9 pounds! This one is the lightest of its kind. 
As long as one is not paying for the battery and charger separately, this unit is quite convenient, handy, and budget-friendly as well. The 18v cordless drill driver is a solution for effortless usage of cordless drills for years to come. Due to its quality, built, and durability, it is less likely that anyone may need to replace it anytime soon. 
Advantages
Compatible with Ryobi one+ battery and charger;
Superior power;
High speed and high torque;
For heavy-duty use.
Keep in mind 
---
Hitachi DS18DSAL 18-Volt Lithium-Ion Compact Pro Driver Drill with Flashlight
Drill Offers 460 in-lb of max torque;
Variable speed trigger 0 to 350 RPM or 0 to 1,500 RPM.
DS18DSAL is a hammer-style drill driver from Hitachi. This 18v cordless drill runs on an 18v li-ion slide-style battery, but the charger and the battery are not included in this package. That is why this miraculous hammer drill is available at a reasonable price. 
You must understand that, with 460-inch torque and 1500 RPM, this drill becomes a monster and eats through anything that gets in its path. This machine has a LED; it turns on as the trigger is pushed, and another one delivers afterglow after the application. This is how it ensures the accuracy of the application. 
As long as anyone has the right kind of battery, they can order and use this tool. It never fails to amaze its owner with its outstanding performance and durability. 
Advantages
Highly powerful motor;
Draws high torque for professional applications;
Comfort grip handle for extensive use;
Included lithium-Ion flashlight for added flexibility.
Keep in mind 
---
Frequently Asked Questions (FAQ)
What Is a Decent Force for a Cordless Drill?
Newton meter (Nm) on the cordless drill
4 to 15 Nm is good for those more decent screwdrivers around the house. An extraordinary all-rounder of 15 to 35Nm can drive through medium size screws and opening boring. The 35 Nm vertical will handle those more actual ventures with larger screws and openings.
How Long Do Power Drill Batteries Last?
By the day's end, you can expect a normal of around a few years from your Li-particle cordless drill battery, contingent upon the amount you use it. A Ni-Cd battery will endure less, but on the other hand, it's more subject to how frequently you use and re-energize it.
How Much Does an 18v Cordless Drill Typically Weigh?
The weight of an 18v cordless drill can vary depending on the brand and model. On average, they weigh around 3-5 pounds. It's always good to check the specific weight of the drill you are considering purchasing.
Which is a Better 12v or 18v Cordless Drill?
Power. It's obvious that 18-volt tools are more powerful than their 12-volt brethren, but 12V vs 18V isn't just about power. You simply may not need all that torque. However, if you are in production where you're doing heavy-duty, high-stress tasks, then an 18-volt platform is better suited for the job.
Conclusion
At the end of this write-up, I want to shed light on some issues before finishing up. As we have listed only high-quality drills here, there is less chance to face any trouble within the warranty period. Despite this, the tool or its accessory can break in time due to misfortune because you can't tell about the power tools. For that reason, it is better to always know the warranty policy before the purchase. 
Besides, proper maintenance is also necessary for a longer-lasting cordless tool. Unlike corded drills, this one runs on battery. So maintaining the battery and charger is also compulsory. Never leave the battery in the drill when it is not in use. Also, remember to clean and store the tools along with their accessories properly for long-lasting service. 
Featured image credit: Amazon.com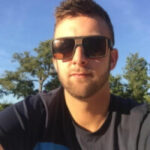 Hello, I am David Rowan. I am a professional contractor with 10 years of experience in home building, different tools used, construction, home remodeling, and other home improvement work. I have already built many custom homes and continued to do several woodworking projects along with how to deal with all categories of tools.