Be it needed for tree felling/harvesting firewood at home or for cutting firebreaks, a chainsaw is a must-have tool in your toolbox. 
Several countries have their chainsaws in the global market; however American brands offer quality products with longevity. Right now, America is one of the leading brands competing with China via bringing reliable and durable chainsaws for years. American brands offer quality products with longevity 
Though many chainsaw companies outsource their chainsaw production outside of America if you wonder whether "are there any American-made chainsaws" Undoubtedly, America actually makes some of the best chainsaws in the world in many of their states. 
What Chainsaws Are Made in the United States?
Different types of chainsaws are made in the United States, of which; STIHL, Husqvarna, and ECHO are the most popular for their gasoline-powered, electric-powered, and battery-powered chainsaws manufacturing.  Poulan and Jonsered, which are run by Husqvarna, a parent company, also have their chainsaw models made in the United States. 
Are STIHL Chainsaws Made in America?
There is a saying that goes for STIHL, if you are buying STIHL, you are buying not just any tools but American-built tools[1]. While STIHL is a German-owned company, they produce the most quality chainsaws in their factories in Virginia, America, and export them to over 90 countries. 
Though popular for gas-powered tools, STIHL is also bringing in battery-powered chainsaws in the market, one of which is MSA 140 C-B, their latest invention in 2021. 
Are Husqvarna Products Made in the USA?
Many consider the Husqvarna brand to sell foreign-made products, however, though its headquarters are located in Sweden, the chainsaw brand is manufactured in the USA. Husqvarna mostly sources its raw materials from different countries and assembles the main product in the USA. 
Are Echo Chainsaws Made in the USA?
ECHO is one of the most well-known chainsaw brands in America. This brand has a manufacturing facility in Lake Zurich, Illinois, USA manufacturing the majority of its chainsaws. ECHO brands are popular for their faster engine and lightweight versions. 
What Brand of Chainsaws is the Best?
STIHL is considered to be often the best American-made gasoline-powered chainsaw brand for outdoor activities as well as indoor. Though Husqvarna and ECHO do not make all the parts for this chainsaw in America, it is still very popular as an American-made chainsaw brand. Varieties of specifications and well-reputed for being reliable products have made these brands as most commonly used American-made chainsaw brands.

What Are All the Brands of Chainsaws?
With the proper safety knowledge, a chainsaw can be an indispensable labor-saving tool. It's a powerful power tool that can clear brush too dense for electric loppers, cut off dangerous limbs from trees, or turn stumps into firewood. Along with ECHO, STIHL, Husqvarna, Poulan, there are Craftsman, Ego, Jonsered, McCulloch, Remington, Ryobi are frequently high-selling brands of chainsaws.

What Brands of Chainsaws Are Made in the USA?
STIHL, Poulan, ECHO, Husqvarna are considered to be some of the best American-made chainsaws brands. Besides them, there are some other brands of chainsaws made in the USA i.e McCulloch, Jonsered, Remington, Dewalt.
Some Common FAQs for Our Readers 
Here we are adding some FAQs for our readers so that they can gain some common knowledge about American-made chainsaws. 

Where to Buy the American-made Chainsaws? 
A motor and electronic store in your neighborhood is the first place you should knock for buying a chainsaw. Alternatively, you can directly purchase online from their websites/marketplaces unless you want to try out the product yourself on the spot before buying.
Are American-made Chainsaws Budget-friendly?
To be honest, American-made chainsaws are not in the cheap categories compared to Chinese-made chainsaws. However, they identify as the most reliable and durable products compatible with their higher than average price. 
What Oil or Gas Is to Be Used to Run the Chainsaw?
Usually, chainsaws come with chainsaw fuel to get the user started. Seller shops will also specify for you the type of fuel, be it gas, battery, or oil, needed for your purchased one. 
Gas or Electric, Which Engine Mode is Better for Chainsaws?
Gas-powered chainsaws are more available and effective for heavy work while electric-powered chainsaws are often light-weight and require less maintenance compared to their Gas-powered opponents. Depending on which task it would be used for, users can pick their best options as both modes offer good performance. 
Which Safety Features to Look for While Buying a Chainsaw?
Chain brake: This feature helps the user to reduce the chance of injuries by halting the chain to prevent the blade from spinning after cutting is completed.
Chain Catcher: This feature catches the chain if it breaks or derails to make sure it does not hurt the user's hand. 
At a Glance
There are a variety of American-made chainsaws to choose from if you want to buy chainsaws that are specifically made in America or under American brands. While these chainsaws offer plenty of specifications, often durability and safe use are commonly found traits of the American-made chainsaws. Additionally, the below points are from the users' reviews posted in the marketplace:
Excellent performance
Low maintenance issues
Easy to use and durable.
Reliable for heavy-duty work. 
[1] The majority of STIHL products are made in the USA with materials imported from other countries.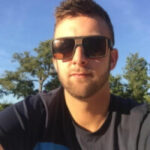 Hello, I am David Rowan. I am a professional contractor with 10 years of experience in home building, different tools used, construction, home remodeling, and other home improvement work. I have already built many custom homes and continued to do several woodworking projects along with how to deal with all categories of tools.