This article may contain affiliate links, which means if you make a purchase following our links won't cost you extra, but we may earn a commission. Learn more
Are you searching for a safe and natural hair extension for thin hair? Nowadays, you can ​few extensions that methods and products are available, which are not safe and not well blending with hair types. Most women have faced the problem with their limp hair, thin hair, damaged and broken hair. But they want to add some volume and length. So hair extensions are only the fastest and easiest way to fulfill their demand instantly.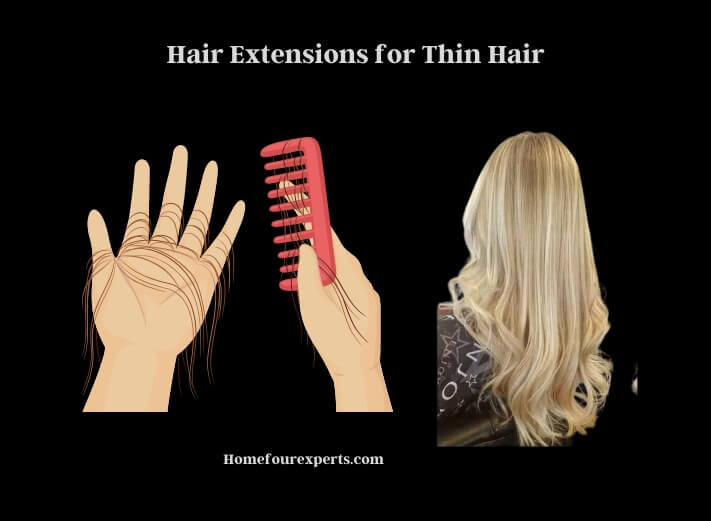 Now the fact is which one is the perfect hair extension for thin hair. In this article, we will talk about hair extensions for fine hair. Yes, you should have heard about the hair salons offering semi-permanent and permanent extensions. But those are too costly and keep too high-maintenance. 
Here we are going to discuss a few extensions that you can easily wear and remove at home. Also, these don't cause pain or damage and allow you to change your hairstyle without breaking your hair. Now is the time to go for hair extensions for thin hair and make your fantasy of being a thicker and longer hair beauty a real life.
What Types of Hair Extensions Are Best Suited for Thin Hair
The best types of hair extensions for thin hair are tape-in hair extensions, micro-bead extensions, clip-in extensions, and halo hair extensions. These types of extensions add volume and length while being lightweight and gentle on thin hair.
What Are the Pros and Cons of Using Hair Extensions on Thin Hair
Pros:
– Hair extensions can be a great way to instantly add length, volume, and fullness to thin hair.
– Hair extensions can also be used to add color and texture to thin hair.
– Hair extensions can be customized to match the color and texture of your natural hair.
– Hair extensions can be worn for a short period of time or for a longer period of time, depending on the type of hair extensions used.
– Hair extensions can be used to add a bit of glamour and style to thin hair.
Cons:
– Hair extensions can be expensive. – Hair extensions can be difficult to maintain and take care of.
– Hair extensions can cause damage to thin hair if not applied and maintained properly.
– Hair extensions can be difficult to remove if not done properly. – Hair extensions can cause irritation and itching to the scalp.
Features to Consider an Extension for Thin Hair
Already you got the solution for your thin hair. The next step is choosing one perfect extension for you. So you should consider a few important features for purchasing one. Here you go below for details.
Select a Perfect Extension 
There you find many types of hair extensions, but here we recommended two types of extensions for your thin hair. If you want to try others, that's no problem. For use, any occasional clip-in extensions are the right choice. After clipping them, you can cut them to length. You can choose as per your hair type those clips in extension. Taped in extensions are a little bit durable, that means you will possibly be able to pull on them a bit except them giving. Don't shower with them in. 
Hair Closures
A closure means a cap of sorts that will blend your extensions into your natural hair. It is perfect for those women who can't necessarily use their hair to cover the extensions. You may need to choose a different color and texture if you have thin hair. It will occasionally come with your hair extensions. You can glue, sew, or tape the closure for your hair safety. 
Single or Double Weft
A double weft will allow you to use small pieces to achieve a thicker look in your extensions. However, if your hair is thin, this won't perform well, and if you aren't careful, then it may leave looking out of place. In that case, single weft extensions are good.
Real or Synthetic
There are top-quality synthetic hair extensions available in the market. That will give you the look of real, and the various qualities of any extension that is why it is faithful to the people more than real. Generally, real hair looks more than real and because it is actual hair. So you can treat it like your natural hair. Most synthetic hairs come with a lot of shedding, which does not precisely match human hair. Real hair will last longer and give you lots of options for styling. 
Hair Extensions Maintains Tips
There are a few main rules that you should follow when you are caring for hair extensions and you have thin hair. After taking good care, it will be long lasting. A few points you have to consider about your hair extensions for thin hair.
Never Sleeping with Hair Extension
It is awful to do this anyway, but not if you have hair extensions. If you sleep with extensions, it will affect your bonds and cause tangling.
Use the Products Carefully 
Your hair product should be chosen for your hair extensions like shampoo, conditioner serums, or oils. Your shampoo should apply from your hair roots to ends, but the conditioner can only apply to the lengths. And using serums or oils near the roots and all over the hair.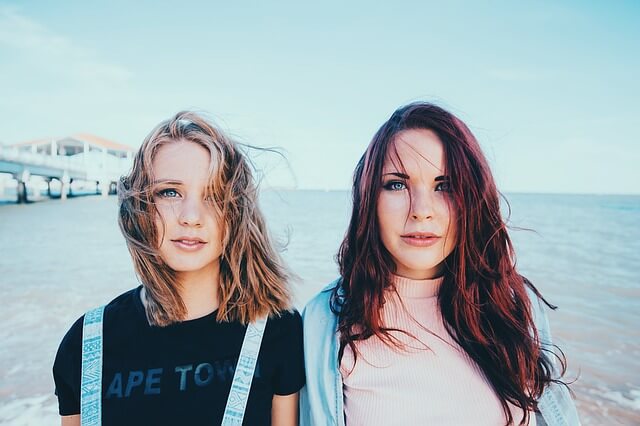 Make Your Washing Routine
When you go washing for your extension, try to do it from the crown down. This will stop tangling and put unnecessary force on your extensions. Massage your shampoo in circles, not only the extensions but also your natural hair for sure to clean.
Dry and Detangle
First, dry your hair with a towel and get free of any excess water. Always stay away from rubbing the scalp area because it may tug on your bonds. Keep your hairdryer on a lower heat setting and use a soft brush to remain as gentle as possible. You can also use a tangle teezer if you want.
Editor's Note
Hopefully, you have enough knowledge about hair extension. We highly recommend a few hair extensions to anyone who wants thicker and longer hair at a reasonable price. Now time to choose one for your thin hair. And get a gorgeous look at your hair. Keep in mind; choose your hair extension and maintenance. That's why it lasts longer. So save your time and use your money well.
View Our Recommended Hair Extensions for Thin Hair
On the market, you can see many products are promising to add shine and volume, better than others for anyone challenged. So, how can you justify a perfect hair extension for your thin hair? Take a look at our recommended list, which can help you make the right decision.
Sarla Synthetic Hair Extension for Thin Hair
Click on the Image to >> See on Amazon
No split ends;
Come in various colors;
12-inch wavy hair extensions;
Stay put for a longer time.
The SARLA synthetic extension is a great choice to adjust the party look. It is perhaps more like a wig. To wear it, you feel something like wearing a hairband for a few minutes. If you follow our instructions, that will be simple for you. Sarla has many colors, which make it easy for you to find a needed shade easily.
This extension offers a dark brown shade, but don't think about it; you can match your hair color. SARLA synthetic wavy extension comes in 32 different colors. The hair extension is very soft, silky, and shiny. If you are not happy with the color, you can contact the seller to exchange it, but coloring this hair extension is not an option.
Aison Dark Brown Remy Thin Hair Extensions
Click on the Image to >> See on Amazon
7A grade real hair extension;
20 pieces included in one package;
Total weight 40 grams.
For short term uses, this tape in hair extensions is the most suitable for thin hair application and avoids the seamless look. Only 1 or 2 packs is enough to boost the volume of your hair. For adding extra length, you should need 2 to 3 packs. 
The big thing about these extensions is, you can wear it by yourself yet look salon-fixed. Everyone did those looks professionally. You can choose to order a plain or another highlighted version for yourself. For any special occasions or events, you can try it to get a glamorous hair look.
Vario Chocolate Brown Extension for Thin Hair
Click on the Image to >> See on Amazon
Comfortable and secure to use;
Easy to put on and take off;
Each pack have 7 Pisces;
Comes with a 16-inch length.
These blonde hair extensions from Vario are made by using 100% Remy hair. You can style them anyway as you want, such as curled, straightened, etc. It adds a glamorous edge to your new hairstyle. They offer a huge range of shades, lead-off from bleached blonde to natural black. This style is comfortable to wear and just as easy to remove at the end of the day. 
They are thick and soft enough as you need. It is very well made and comes of good quality. They are beautiful curly waves, and they also have so many varieties of colors that you can find a perfect match for your hair. It is also available at a reasonable price.
Beauty on Line Dark Brown Thin Hair Extension
Click on the Image to >> See on Amazon
Comes with dark brown color;
20-inch hair extension;
50 grams per 20 pcs.
For fair to tan skin tone color, every brown and golden shade looks good. Wear this on your head, and the hair extension is golden blonde color dark brown, and golden brown. When this is on your head, your natural hair will be mixed and give the extra volume and length. 
It is available in a huge range. For this Remy's hair, it blends in with your natural hair and its texture. It doesn't come with a shed or tangle. So, properly conditioning it looks lively and a bouncy hair extension.
Labetti Double Weft Extension for Thin Hair
Click on the Image to >> See on Amazon
Durable and light-weight;
Well-crafted to double wefts;
Per pack has 7 Pisces;
Available in several colors.
If you are hunting for a hair extension for thin hair, you do not need to look further. These extensions from Labetti are perfect for you. They are made from 100% real human hair and give a natural softness and bouncy look to your hair. 
Although these come in straight, so you can style them anyway as you want to match your hairstyle. These extensions are made well-crafted for a neat and natural look. Naturally, 1 pack is not enough to cover your full head, you need 2-3 packs. If you take care of it like your own hair, then it usually lasts longer.
Hair works Ultra Thin Hair Extension
Click on the Image to >> See on Amazon
Easy to washable;
13 inches wide extension;
Professionally designed;
Detangling and styling easily.
The Hair Works come with an ultra hair extension designed to help wash, store, pack, and style as you want. It is made with ABS plastic. This extension is intended to be very lightweight and durable. And it's stainless steel makes it waterproof. Just it attaches smoothly for styling. 
Are you worried about traveling with your extensions? Simply setting your extensions into the Caddy, then wrap up the hair around the exterior of the Caddy. Now slide it into the travel bag. Notice that your hair extensions will be safely organized inside your handbag or your suitcase! It snaps to the attachable hooks on the caddy for storage, and you can hang on any hanger. You can now store it inside your closet and go out of your way.
BHF Dark Brown Extension for Thin Hair
Click on the Image to >> See on Amazon
Per set has 6 pieces;
14-inch length;
Well crafted extension;
Top to end Kept its thickness;
Secure and comfortable to wear.
The BHF extension offers a securable grip on your scalp. But it needs the flexibility of a tape-in extension. However, the BHF hair extension has two shades available and also offers two lengths. You can go for off black or dark brown in 15 inches or 18 inches length. Both are Remy human hair extensions, so it easily blends into your natural hair.
You can easily dye, bleach, perming, and heating style with this extension as you do to your natural hair. It is no fact that the hair lives longer. Without any proper care, the extensions will be damaged sooner. For the price section, this hair extension can beat the pricey brand name of extensions.
SWACC 22 Inches Thin Hair Extensions
Click on the Image to >> See on Amazon
Cost-effective;
Good quality texture;
Made by synthetic fiber;
Chemical-free.
The SWACC party clip hair extensions are made of 100% quality full synthetic fiber. They are made without chemicals, and that for those are silky glossy. This extension offers two texture options one is curly, and another is straight. It is about 22 inches long and 7 separate pieces.
These highlighted extensions give you a fashionable look for everyday use. This set has 11 different shades, with each color having 2 pieces added with one clip. You can easily apply, move, take off, and feel like your real hair. It comes at an affordable price.
Yilite Medium Brown Extension for Thin Hair
Click on the Image to >> See on Amazon
Comes with good quality;
Soft and easy to use;
It is washable.
The Yilite 16 inches hair extension is made from 100% real human hair. It does not make your hair tangled. It has a layer of hair net between two layers that keeps your hair from shedding effortlessly. This extension adds extra length and volume to your hair in a few minutes. 
It is reusable and safe for your hair. The sticky of its tape needs to be exchanged within 4 to 6 weeks, and you can easily remove it with a remover. The Yilite extension is suitable for everyday use and also for special occasions. You can be styled with curling irons, straighteners, etc. as you want.
Hair Works 4 in 1 Extension for Your Thin Hair
Click on the Image to >> See on Amazon
Made with 100% Remy natural hair;
This extension come in nice shades;
It has a silky texture;
blend well with your hair.
Do you want to transform your look instantly? Then the BeautyHair Works hair set 4 in 1 extension is perfect for you. It is crafted from 100% Remy human hair. The extensions are very soft and well manageable. It is more durable, lightweight, and waterproof. The extensions create a natural look as you want.
This extension offers you natural shine and tangle-free locks. It is easy to apply at home and gives you a glamorous look. Also, protect your hair against breakage. It is comfortable to use. You can be washed and styled, just like your natural hair.
Apeasex Natural Black Color for Thin Hair Extension
Click on the Image to >> See on Amazon
Hair is attached to the clips;
Reusable extension;
Minimize the tangling and shedding.
If you want to do thicker and longer hair immediately then, Apeasex hair extensions is the correct selection for you. They are extremely natural and simple to put on and remove. You can get the volume which you wish for on your own. 
In Apeasex straight extensions, all their hair has already been attached to their clips, which is quite flexible to use. They are made with 100% virgin human hair, and it has been designed to lessen the tangling and shedding.
AISI QUEENS Clip in Bangs 100% Human Hair Extensions
Click on the Image to >> See on Amazon
Good quality hair;
It is 5-inch longer;
Remy hair bangs.
Many women with thin hair do not want to go for bangs as it makes it even thinner. Here, Aisi queen bangs come with an instant and easy solution for those women. 
Now anybody can make bangs without cutting their natural hair within a second. It will be possible with a bangs extension! There are four natural shades available. 
All are made of real human hair, and you can style it straighten, or curl the bangs as you like to do. 
This hairpiece doesn't slip down because it is attached to a clip. The front of the length of the bangs is 5 inches, and the sides are 9 inches longer to frame your face. 
If your face is small, you can cut the bangs too. You can use it every day or just on any occasion. No one can get that you are wearing an extension.
Frequently Asked Questions
Do You Want Permanent Hair Extensions?
Theoretically, the answer is you can. If you have no hair growth on your head, then you can use the extensions glued on your scalp. However, most people love the long term extensions for permanent. They are mostly long enough term wear so that it can seem permanent. You can't remove or transfer them at home by ownself. You will need assistance to take it out safely.
Who Should Avoid Using Hair Extensions?
Unfortunately, everyone does not need to use hair extensions. If your hair is severely damaged or thin, then this is the perfect solution for adding extra volume and length. There are many types of extensions you see but choosing one which matches your natural hair. You can vastly improve your hairstyle, and also confidence is increased. You'll love your hairstyle and do good maintenance. Read more: 7 Best Curling Wand for Long Hair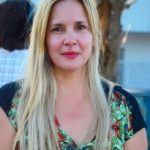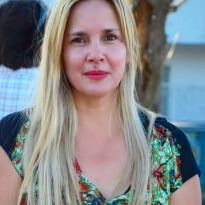 Guys, I am Camila Avery and I love to help my mom to do indoor & outdoor activities. As a lady, I have passed my time on gardening, home improvement, and personal or self-care. I have acquired some degrees in outdoor recreation, beauty, and hair care. It is not easy to work with top-level professional beauty experts. But, I got that opportunity and experimented with different hair extensions, hair colors, and cuts.