Published on: May 28, 2022
Written by Eric Devin / Fact-checked by David Rowan
So you're planning to carve a bear on your own!
Well, it's not such a tough job if you have the proper equipment and do some research on how to do the job.
It is always better if you study carving as you are going to do this with the chainsaw. Proper study and research will help you to complete the carving without any waste.
For research, you need to watch as many videos as you can available on the internet about the particular design and spend more time with an expert carver and watch them closely while they are carving.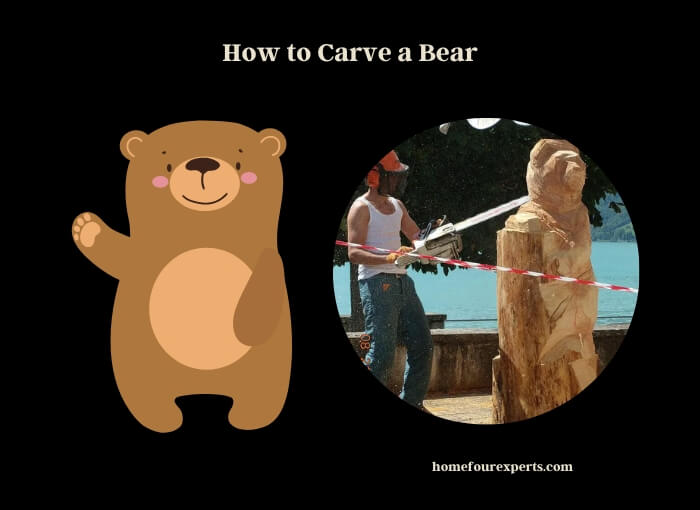 Though making mistakes is normal for any beginner, there are some simple basic things that anyone can follow to start carving a bear with a chainsaw.
Chainsaw wood carving is a very popular art form. Here we have discussed the chainsaw techniques and safety features for starting a chainsaw bear carving.
So, here I'm! With a few basic steps that can make your carving process easy!
How to Carve a Bear
Today I'll tell you about how to carve a basic bear with a chainsaw. Before you start craving you need to be prepared about a few things. I'll highlight these and show you how to use your chainsaw to carve a bear with it, but for creativity, you must depend on your thoughts.
While carving bears, each one will come out different but there are few basic things you need to follow.
Read more: Chainsaw Wood Carving for Beginners
Prepare with Safety Gears
The first thing before starting working with any power tool is protecting yourself with proper safety gears. So you need to prepare with all necessary safety equipment before carving your bear. The must use safety gears you should have for chainsaw carving is-
1. Helmet & Face Guard
As you're working with a dangerous power tool to carve a block of wood, you must wear a helmet and face guard to protect your head and face from any kind of kickback.
2. Safety Goggles
If you don't want to cover your face, you can wear safety goggles to protect your eyes from sawdust.
3. Ear Protection
Usually chainsaws produce noise pollution which may lead you to ear problems! So to protect your ears from noise, you must need disposable earplugs or noise canceling earphones/ headphones or hearing protection earmuffs.
4. Gloves
To protect your hands from the vibration of your chainsaw, you should wear gloves. It'll also protect your hand from any kind of injury while working with wood.
5. Kevlar Pants or Chaps
While working with a chainsaw, you must wear kevlar pants to stop the chainsaw in case it gets any chance to kick back on your leg.
6. Proper Footwear
The next important safety gear is proper footwear which can protect your foot. In this case, steel toe boots are the perfect footwear to wear.
Read more: The History and Evolution of Chainsaws
Select your Chainsaw
Before starting, you need to select the right chainsaw for carving the bear. You can select a big one for making the shape of the bear then move on to a smaller one for more detailing. But if you're doing it for the first time, you can go with a chainsaw with which you're comfortable to work with. For my first project, I chose an affordable and light chainsaw.
Beside the chainsaw, you may need other tools and equipment to make the bear more real and attractive, like- angle grinder, die grinder, sander etc.
Get your Wood
Wood is the main element you need to carve a bear with your chainsaw. You can choose any size to work with. But a 3 foot will be great for beginners. You can buy your wood or can collect from the forest if you live near one or ask your neighbor to give you their old tree trunk or stumps.
Sketch the Bear Draw the Lines on the Log
Before carving the wood, it'd be better if you sketch the bear on paper with all detail. Because if you made any mistake during carving, it will remain forever or if it goes worse you may even need to throw the wood. So to avoid this situation, draw the bear first and plan how you'll start carving.
After completing the sketch, you can draw the major lines on the wood to start with. This will make your carving process easy.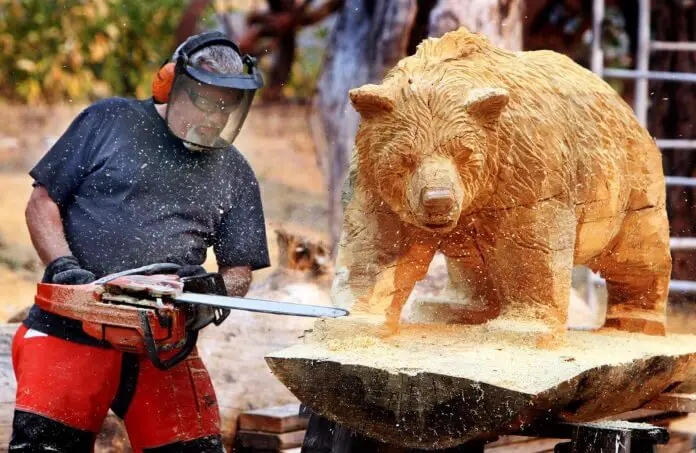 Carving the Bear
After doing the mentioned preparation, you can start carving your bear. You definitely have planned the whole process for carving. But if you're a beginner you can do the steps I've mentioned below, it may help you to carve your first bear.
And for carving the bear you can start with shaping the back of the head and make the neckline of the bear.
Now cut the top and shape the ears of the bear.
Then create the top of the bear's snout and cut the sides of it to define it well.
Next, define the head of the bear.
Now draw the arms of the bear.
After cutting the arms start shaping the backside of the bear.
Now time to shape the legs. After defining the back and bum of the bear make the legs. While carving the legs remember that the bear has really small legs. Separate both legs by cutting all the way through the log.
Now by cutting the front of the foot, shape the belly under the drawn arms.
Now shape the head and make the make of the bear.
After shaping the major parts of the bear, go for the detailing. Like- inside of the ear, eyes, nose, mouth, shoulder, arms, claws on the hand and feet.
For more detail you can check this video, this really helped me to carve my first bear!
Conclusion
Wood carving can really change the atmosphere of your home and backyard. It can turn any useless part of the tree into a new and attractive artwork, which will increase the beauty of that. You can also carve anything and give them to your family and friends.
But the most important thing you should remember while carving with a chainsaw, never ignore any simple things about your safety. Because the chainsaw is a pretty dangerous power tool, you need to be careful while dealing with it. Otherwise, it is the most effective tool for wood carving.
So be safe and enjoy carving.
You Might Also Like: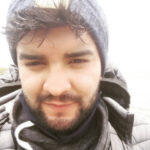 Hi, I am Eric Devin and I am a professional interior architect. Since childhood, I've always enjoyed DIY projects! And, I have loved to solve simple household problems using essential tools and equipment. I have also acquired a lot of information about basic household tools settings by working with contractors.