Guys who are DIYers have to need some important tools for home improvement. So, what are must-have tools?
Sometimes it is tough to understand the details about must-have tools of the trade for home improvement DIYers. Even though it is impossible to use all the tools at a time.  
I write this article to present the only major facts as well as Frequently Asked Questions that are helpful for you. So, better to read the whole article all the way till the end. After reading, you get the actual & important data on what you need. 
Must-Have Tools of the Trade for Home Improvement DIYers
There are many home improvement DIYers tools. Not possible to show all. For this reason, I recommend here powered handsaw, circular saw, miter saw, basic tool kit, table saw, hammer, and other essential tools. These tools are fundamental for all woodworking projects. I also recommend in this post my favorite pick. 
1. Powered Handsaw
When it comes to work DIY projects, saws are essential for every ins and outs action. Some woodworkers dislike using the traditional handsaws. In the back, people use these. But, these are not able to provide the best cuts. For this reason, you can use the powered handsaw. They are powerful and comfortable to work with.
2. Circular Saw 
Circular Saw is an important part of DIY home improvement and remodeling with ease. It comes handheld with a standard blade to cut everything from wood to granite. So, you can use it for both ripping that means wood grain and crosscutting, against the wood grain. Blades can be different according to the saws variety. It is a great tool for creating the deck benches due to its portability. 
Of the many circular saws, my favorite  is DEWALT 6-1/2-Inch 20V MAX Circular Saw. You can find many smaller hand-held circular saws to cut the thinner materials. The average price range of the circular saws is between $40 and $200.
3. Miter Saw
Miter saws and circular saws have quite a similar outlook. But, they are completely different tools of the trade for home improvement DIYers. Miter saw is specially designed for perfect angled cuts or crosscuts. Keep in mind that this type of saw is not good for cutting the plywood. In this case, circular saw is great. 
The average price of the miter saw is from $120 to $800. The best feature is its allowing you to create angle cuts quickly and accurately without any hassle.
There are several high-quality miter saws in the market. But, my favorite pick is due to its powerful features. 
4. Hammer
Hammer is a very tool of the trade for home improvement DIYers. It is available for hitting the pieces or driving nails into boards. It is designed with multiple handles including metal, wood, or fiberglass. I like the IRWIN Hammer because of its standard weight and comfortable size. 
5. Random Orbit Sander
The most boring work of the DIY project is sanding. Many wood carvers don't appreciate it. Because they can tolerate a little pain. The good news is that the random orbit sander reduces the problem. It can protect your elbows countless hours of grease. There are many random orbit sander in the market. You can collect anyone. 
6. Table Saw
This saw is ideal for cutting long and big pieces including a DIY sectional sofa or a portable workbench. It can make more accurate rip cuts when you compare it to the circular saw. The problem is that most of the table saws are quite bulky and not easy to move. 
Luckily, some modern saws are portable and have a folding system that is easy to transfer. Remember, if you have not enough space in the garage, it is better to avoid table saws. Price range of the most common table saw ranges from $150 to $1,000. 
But, there are no saws as powerful as table saws. This one is the most portable table saw from the lots of products. It doesn't take up as much space.
7. Basic Tool Kit
To collect the multiple tools and keep them safe is essential for every DIYer. There are a lot of configurations. But, handyman offers 100 incredible tools for DIYers. You can check out the post to know in detail. Alternatively, Amazon offers many toolkits according to your budget. Among those, Amazon Basics household toolkit provides 142 pieces of tools within a short budget. 
8. Hardware 
Hardware kits are also important for home improvement DIYers. The main hardware assortment kits are screws , nuts, bolts, nails and washers. Jackson Palmer comes with a wide variety of the hardware within a standard price. It includes 2,050 pieces of hardware assortments. So, there is no chance to skip any important thing. I like this. If you want, you can collect it. 
9. Cordless Drill or Driver
Cordless or Brushless drill is the most versatile tool in DIY projects. It works well both by putting furniture together and cleaning the grout lines. I recommend the DEWALT 20V Max Cordless Drill Combo Kit. It's enough for home use. 
Flashlight
Believe it or not, a powerful flashlight is incredible for home improvement projects though it is not used in the past. You can choose any flashlight according to your budget. 
Utility Knife
Without a utility knife, DIY projects can't be completed. It is one of the useful tools that must be used. This tool is not expensive. So, you can collect it. 
Safety Equipment
As a smart woodworker, you can't imagine your DIY job without safety equipment. The major equipment are a pair of gloves, protective eyewear, noise-canceling headphones, mask or respirator, and more. 
Other Tools
It is nearly impossible to find all the tools at a time. But, we have already mentioned the most impressive tools for home improvement DIYers. Other necessary tools are air compressor & brad nailer set, standard level, tape measure, speed square, quick bar clamps, flashlight, angle grinder, and more. Here is a brad nailer helpful to work quickly driving in fine wire Brad nails. This simple tool is also important for your home renovation project. Remember, when using the angle grinder or other dangerous items, stay safe and secured.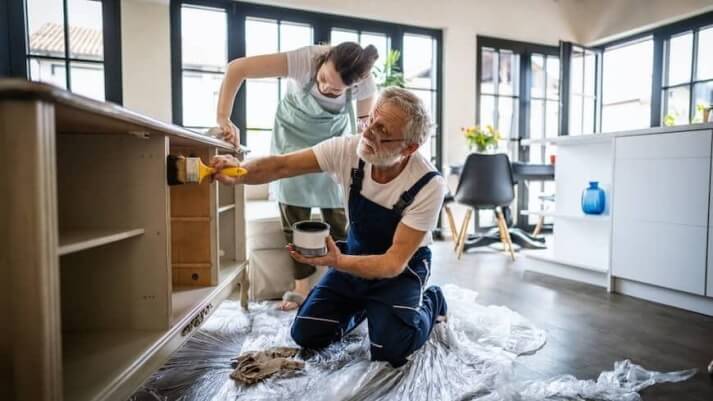 On the other hand, clamps are beneficial to tightly join the object together. Also, a standard level is used to frame the horizontal earth surface. For the basic measurements and specified lines, you have to collect the speed square. 
FAQs
What is Your Top Essential Home Improvement Tool to Own? 
The top essential home improvement tools are hammer, tape measure, pilers, level, cordless drill with bits, adjustable crescent wrenches, utility knife, and more. 
What Tools Do I Need for Maintenance? 
Hammer, pilers, snips, saws, Philips and flat screwdrivers, locking pliers, wrenches, measuring tapes and similar tools are needed for maintenance. 
What Is the Most Common Tool Used in the Tool Room?
The most important metalworking equipment used in the tool room including grinding, milling, slotting, hacksaw, and  bandsaw devices. 
Wrapping Up
If your project is small, you need limited items. Alternatively, for the big project, you can use these above more items although the list is not too long. To use the woodworking or woodcarving tools, you have to be alert and take protection of safety.  
Beside, I provided my favorite item from each of the following tools. Hopefully, you like those items. So, the topic of must-have tools for home improvement DIYers is now clear.
Relevant Resources: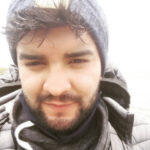 Hi, I am Eric Devin and I am a professional interior architect. Since childhood, I've always enjoyed DIY projects! And, I have loved to solve simple household problems using essential tools and equipment. I have also acquired a lot of information about basic household tools settings by working with contractors.