Published on: July 19, 2023
Written by Camila Avery / Fact-checked by David Rowan
Yes, you can paint a nylon tent, but it requires careful selection of materials and a meticulous approach to application.
Painting a nylon tent brings with it a unique set of challenges and opportunities. From choosing the right type of paint to applying it in a manner that won't compromise the fabric's waterproofing or durability, the process is both an art and a science.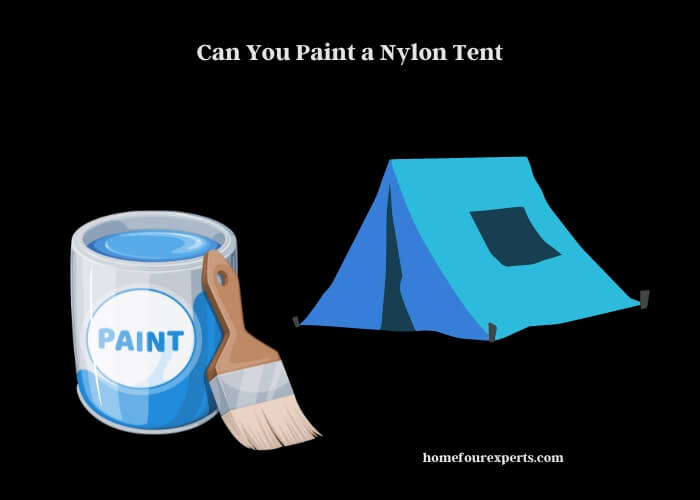 Fabric paint, known for its flexibility and durability, is the first choice of many do-it-yourself enthusiasts. These paints adhere well to nylon, and when properly applied, can result in a vibrant, long-lasting finish. Another viable option is acrylic paint, a medium commonly used for canvas and other heavy-duty fabrics. While not specifically designed for nylon, it's a choice worth considering, particularly for those looking for a wider range of colors and finishes.
The idea of painting a canopy tent or a pop-up canopy might seem daunting. These structures often feature more complex shapes and larger surface areas than regular tents. Despite these challenges, a well-executed paint job can add a personal touch to these temporary shelters, making them stand out in a sea of similar designs.
Dying a tent is an alternative method to consider. While it may not offer the same level of detail or creativity as painting, it can significantly change the tent's appearance.
Regardless of your choice, remember that both painting and dying alter the physical characteristics of the tent material. For instance, a waterproof canvas tent may lose some of its water-resistance if painted improperly. Therefore, it's vital to consider the impact of your design decisions on the tent's overall performance and durability.
The Art of Painting Nylon Tents
Material Selection
Fabric Paints
Fabric paints are often the go-to choice for painting nylon tents. These paints are formulated to bond with the fabric while maintaining its flexibility. They are typically waterproof and resist fading in the sunlight.
Acrylic Paints
While not a traditional choice for nylon, acrylic paints can be used if handled with care. They offer a wide color palette and different finishes, giving the artist greater creative freedom.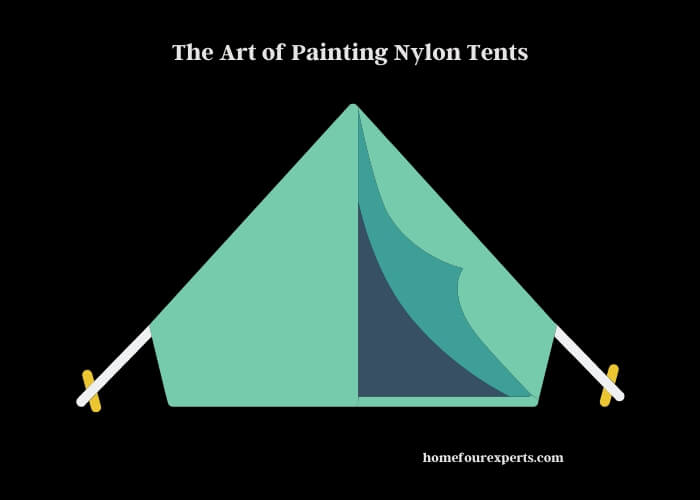 Painting Procedure
Cleaning the Tent
Before starting the painting process, the tent must be clean and dry. This ensures optimal adhesion of the paint.
Applying Primer
Primer allows the paint to adhere better to the nylon surface. While it's not always necessary with fabric paints, it is recommended when using acrylic paints.
Painting
Once the primer is dry, it's time to apply the paint. Two to three thin coats are usually enough to achieve a vibrant, durable finish.
Sealing
A topcoat or sealant helps protect the paint from wear and tear and enhances its longevity.
Considerations for Painting Canopy Tents and Pop-Up Canopies
Size and Complexity
Canopy tents and pop-up canopies usually have larger surfaces and more complex shapes than regular tents. This may require more paint and more time to complete the project.
Visual Impact
A well-executed paint job can set your canopy apart in a crowd. Personalizing your shelter can turn it into a standout feature at events.
Painting Versus Dying
Dying a tent is an alternative to painting. It can transform the tent's color, but it won't allow for intricate designs or patterns.
Potential Impact on Tent Performance
Painting a tent, particularly a waterproof canvas one, may affect its performance. Below is a table showing the possible impacts:
| | |
| --- | --- |
| Impact | Details |
| Reduced Waterproofing | Paint can fill the tiny gaps in the fabric weave, which might reduce its water-resistance. |
| Altered Flexibility | The paint layer can make the fabric stiffer, which could affect the tent's flexibility. |
| Increased Weight | The added weight of the paint might slightly increase the tent's overall weight. |
Remember, it's crucial to consider these factors before deciding to paint a tent.
Frequently Asked Questions (FAQs)
Can You Paint a Pop-Up Camper Canvas?
Yes, painting a pop-up camper canvas is feasible. However, use caution when selecting the paint type. Fabric paints or outdoor acrylic paints can work well.
What Is Garment Paint?
Garment paint, often referred to as fabric paint, is a type of paint specifically designed to adhere to textiles. It's typically flexible to accommodate fabric movement and resists fading.
Can You Paint a Waterproof Canvas Tent?
Yes, a waterproof canvas tent can be painted. But keep in mind that painting might affect the waterproof quality of the canvas. It's recommended to use a waterproofing spray after painting to maintain its water-resistance.
Where Can I Find Fabric Paint?
Fabric paint can be found in numerous locations including art supply stores, craft stores, and online marketplaces like Amazon or eBay. It's available in a variety of colors and finishes.
How to Paint a Tent?
Painting a tent involves several steps:
Clean the tent thoroughly. 
Apply a primer if needed. 
Paint using fabric or outdoor acrylic paint, applying two to three thin coats. 
Apply a topcoat or sealant to protect the paint.
What Is the Best Paint for Canvas Tents?
Fabric paint is often the first choice due to its durability and flexibility. Outdoor acrylic paint can also be used for canvas tents as it offers a wide range of colors and finishes.
Are There Different Brands of Acrylic Paint?
Yes, there are numerous brands of acrylic paint available. Each offers a unique range of colors and properties. Some popular brands include Liquitex, Golden, and Winsor & Newton.
Read more: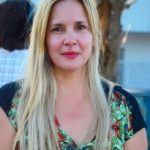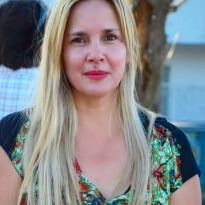 Guys, I am Camila Avery and I love to help my mom to do indoor & outdoor activities. As a lady, I have passed my time on gardening, home improvement, and personal or self-care. I have acquired some degrees in outdoor recreation, beauty, and hair care. It is not easy to work with top-level professional beauty experts. But, I got that opportunity and experimented with different hair extensions, hair colors, and cuts.