When the summer season comes, it is not only sunny and warm but also allows extended trips. It is the ideal weather to spend a vacation with your friends and family. Do you think about its excessive heat? Yes, if it gets so hot, then you will feel uncomfortable.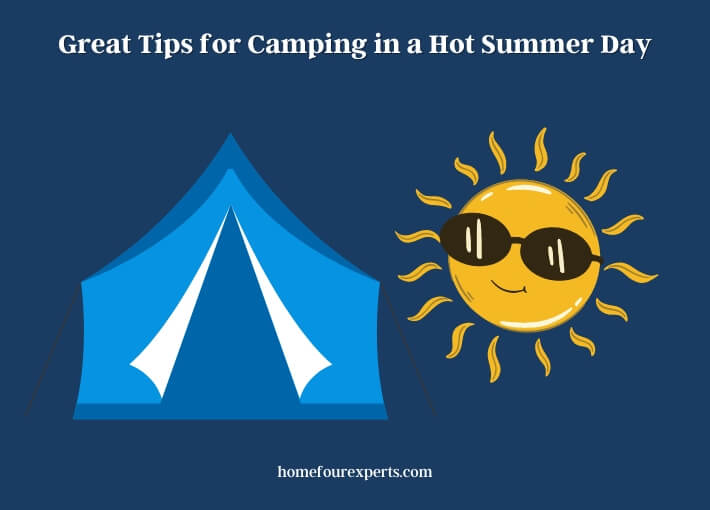 But you can enjoy the summer camp if you organize a well-planned trip. And you have to pack the right gear for summer camp. Then you get the full benefit of the summer weather. It is the perfect season for adventure. 
Just try to stay cool to keep your body hydrated. Knowing how you can stay cool yourself and your tent without air conditioning, here are great tips for camping on a hot summer day. Be with us and follow all the information for getting an enjoyable summer trip.
Why Is Summer Camping So Important?
Every year school doors close for summer vacation. That is the ideal opportunity for parents and children to plan for a summer camp to learn new skills, have new adventures, and have a lot of fun. 
Summer camps are beneficial not only for kids but also for their parents. If you plan for summer camp, our guide lists will help you understand why it can need everyone. So, be with us to knowing great tips for camping on a hot summer day.
What are the Advantages of Summer Camping?
Most people who love to go camping every year are planning to go on camping trips on a hot summer day. Because they know about the advantages of summer camp, then you should learn about its benefits. Here are a few advantages of it.
Summer camping is a great way to have a great time doing a lot of playful activities.
In the same way, plan for languages, cooking, dancing, or a variety of sports.
For this summer camp, you can improve your social skills and build strong relationships with your family members or friends.
It is also essential to develop your independence or autonomy.
Another advantage of camping on a hot summer day is that it gives a fair value of teamwork, respect, and freedom.
Your Self- esteem also can improve in a summer proposal.
Of course, summer camping provides excellent value for the importance of your family and home.
What Kind of Tent or Shelter Should I Use to Stay Cool on a Hot Summer Day?
To stay cool on a hot summer day, you should look for a tent or shelter that is well-ventilated. Look for a tent with mesh windows and a rainfly that can be rolled back to allow for plenty of airflows. A tent with a high peak and steep walls can also help to keep the interior cooler by allowing hot air to rise and escape. Additionally, consider a tent made from lightweight and breathable materials, such as nylon or polyester, to help reduce heat buildup inside the tent.
Another option to consider is a shelter made of breathable fabric or mesh, such as a beach tent or a hammock shelter. These types of shelters provide shade and protection from the sun while also allowing for plenty of airflows.
Lastly, if you are camping on a beach or in a desert, consider using a shade tarp to provide shade during the day, and also to help reflect the sun's rays away from your tent or shelter.
The Useful Tips and Tricks for Summer Camping 
If you like to go on camping trips in hot weather, you have to check our most straightforward tips. If you don't know how to stay cool and fresh on a summer day camping, your trip will not be an adventure. Here are 22 great tips for camp on a hot summer day that will help you stay safe and cool in this hot season.
1. Set the Timing and Location 
It is more important than setting your timing and Location. Because probably the way to stop your tent from getting so hot and make sure you pitch up in the shade. Please pay attention to the time of day to avoid the midday sun.
2. Choosing the Right Tent for Summer Camping
The notable thing is that you don't make your tent with thin materials. It must have UV protection and be able to block 50% of sunlight. It will help you to get a good night's sleep at night.
3. Try to Stay More Hydrated
When you go on a camping trip, you will be spending most of the time out of your tent most of the time. Then it is neutral to feel thirsty and tired. So, during your summer camping, you need to take a lot of liquids to avoid dehydration. You can use a water bottle that easily fits in your camping bags. And it also helps you stay cool and easily refilled.
4. Plan Activity for Getting Cooler Times
You can do several activities during the hottest parts of the summer date. You can hang out at your campsite during midday and eat some snacks or cold drinks, play cards, or read storybooks. Always try to skip all kinds of strenuous activities. 
5. Keep Safe Yourself From the Sunlight
During summer camping, you will quickly attack with sunburns and sunstroke. If you want to avoid this, you have to carry some essential items that protect your skin, and you also feel cooler. You can use sunscreen (must be above 30 SPF). If possible, stay in the shade and take frequent breaks out of the direct sunlight. Then it does not keep your body temperature lower.
6. Choose Food That Not Needs to Refrigerate  
If you want to do packing refrigerated food, then we recommend non-refrigerated food goods. It is perfect for your summer camping if you plan it for more than a day or two days. You can carry those types of freeze-dried backpacking meals that are fine at room temperature. You can also choose many alternative foods for your camping, like powdered milk, vegetable soup packets, pasta, instant oatmeal, cheese, canned chili, etc.
7. Ensure Wearing Proper Cloth
Make sure to bring some moist T-shirts and shorts. And choose Nylon and polyester fabrics because they dry quickly. Don't wear tight-fitting and dark-colored clothes. Always try to choose bright or light colors. Bright colors don't absorb heat as dark colors do.
8. Start Hiking Early in the Morning
To avoid the summer heat, you have to get up early in the morning and go hiking before your lunchtime. Otherwise, you can stay in the shade and start hiking again in the afternoon. That time there was not so much heat. This way, you can conserve your energy. 
9. Keep Summer Sleeping Bag
If you think that you can use one sleeping bag in all seasons, you are wrong. They are not working in the summer season. We don't say they all are so bad for your trip. 
We are trying to say that their outer layer is non-breathable. So, to avoid those causes, choose a light sleeping bag. Because that will not trap inside your sweat. Also, wick the moisture.
10. Wearing Sunglasses and Larger Hats
We already discussed how the sun could damage your skin. Don't forget to pack sunglasses and a large-brimmed hat. Before choosing sunglasses, ensure their protection level and take the right ones. Also essential to choose a good quality hat. That protects your neck and face from the sunlight and its heat.
11. Go Swimming
It will add an extra adventure to your camping trips. And it is also an ideal way to prevent overheating. If you set your tent near a river or lake, you do not have to worry about the hot weather.
12. Make Sure to Use Cold Lights
Most people like to light their tent inside. But you have to choose the right ones. Because if you select warm lights, they will radiate heat. Or if you prefer cold lights that don't emit heat. So, now you make a decision about which one you will choose.
13. Roof Protector 
A roof protector is an essential item in your camping. It provides a shield for your tent, avoiding the sunlight. There are many types of models available like outwell, Vango air, Kampa, etc. All come with smart features and several models.
14. Use a Portable Fan
When you feel so warm, then a portable fan works like bliss. For its battery-powered breeze, it can run all night. Before peak a portable fan, you must consider a few things-
It will be lightweight, 
Portable,
capable of attaching to your tent's floor or wall, or ceiling. 
15. Take a Shower Before Sleep
If you have water near your tent, don't miss taking a shower before going to sleep. The cold water will lower your internal temperature. So, after having a shower, you feel relaxed and able to fall asleep quickly. 
16. Don't Avoid the Natural Shade
When you set up your tent, ensure that the place has enough shade. Direct sunlight does not fall in your tent. That is very uncomfortable. So, shades keep you cool from the heat. Also, you can enjoy the summer day environment.
17. Keep Bugs or Mosquitoes Away
You don't want to spoil your summer camping trip with the bugs. Bugs are increasing in the summer session. And their bites are itchy. So, make sure to keep bugs away during summer camping. There are a few tricks that will help you to stay away from bugs and mosquitoes.
You should wear protective clothing.
Choose waterproof mosquito repellent.
Mosquito head net.
Use mosquito coils.
Bug spray or creams.
Look at the campsite high and dry.
Keep your camp area clean.
18. Don't Miss Your Emergency First Aid Kit
Obviously, without this item, don't make your trip. When you get so much heat stroke in the summer camping, you have to keep basic first aid and emergency items. So, make a checklist for a camping emergency first aid kit. That includes your necessary emergency supplies, adding in natural remedies.
19. Be Aware of Fire Safety 
Around 85% of wildland fires are caused by humans. The risk of starting a damaging fire is too high for not paying attention to warnings. Keep in mind, always listen to fire warnings to check the fire level. There are some tips for fire safety. You should be aware of those tips for keeping yourself safe.
Build up a safe campfire.
Keep a designated fire pit.
Not used gasoline to start a campfire.
Never leave a fire unaccompanied.
Before leaving the campsite, ensure the fire is appropriately quenched and doused with water.
20. Insulated Water Bottle 
In the summer season, you have to drink enough water to keep your body hydrated. If you go camping on a hot summer day, then it will be more necessary. A wall-insulated bottle can help to carry water cold for a longer time. That's very useful if you are planning to explore the surroundings.
21. Keep Your Tent Cool on a Hot Day 
Summer means hot weather. So you have to try to keep your tent cool as possible. That's why you can open your tent window to pass the hot air. You can also use a portable fan as we told you about it before. You can bring a cooler of ice into your tent to avoid the summer heat.
22. Save Your Energy and Get Active the Whole Day
On a hot day, the sun hits your camp tent in the morning, so you have to rise early before the sun. Then you can easily avoid the horrible alarm clock. And you get enough time for your camping activity. If you like to sleep, then you can do your work in the afternoon. That's how you can save your energy. The warm weather is the reason your energy is less.
What Temperature Is Maximal Hot for Camping?
Warm weather is the most comfortable time to make a camping trip. According to the weather forecast, NWS is in the heat-index range of 90°F to 105°F, known as extreme caution. This temperature is safe for camping. 
When the heat index goes above 105°F, that is a warning of excessive heat. And it will be dangerous. At this temperature, you should avoid camping trips.
What Clothes Should I Pack for a Camping Trip in Hot Weather?
When preparing for a camping trip in hot weather, it's crucial to pack the right attire. Here are some essential camping clothing tips to keep in mind. Firstly, opt for lightweight and breathable fabrics like cotton or moisture-wicking materials to stay comfortable. Loose-fitting clothing can help promote airflow and prevent overheating. Don't forget to bring a hat and sunglasses to shield yourself from the sun. Lastly, versatile pieces like shorts, t-shirts, and swimwear can make your camping experience more convenient in hot weather.
Special Techniques to Set Up My Campsite to Keep Cool in the Summer Heat
Yes, there are several techniques you can use to keep cool while camping in the summer heat:
Pitch your tent in a shaded area, such as under a tree or a tarp.
Use a tent with a high "mesh-to-fabric" ratio to increase airflow.
Use a reflective tarp or other material to reflect sunlight away from your tent.
Use a camping fan or portable air conditioner to circulate air inside your tent.
Set up your tent so that the door is facing away from the sun.
Use a camping hammock instead of a tent, which allows for better airflow and can be set up in the shade.
Bring a portable shade structure, like a beach umbrella or pop-up canopy, to provide additional shade.
Take advantage of natural cooling methods like taking a swim in a nearby lake or river.
Use lightweight, breathable clothing and bedding to help keep you cool.
Use a portable battery-operated fan or a camping misting fan to help cool you down.
What Color Tent Made Coolest on a Hot Day?
Are you ready to pick a tent for your summer camp? That wait a minute. Because in this situation color is a big issue. Make sure to choose a dark color tent. Dark colors have ultimate heat absorber capability. 
You can choose black, green, blue, etc. A dark-colored tent is a perfect place to spend the nighttime. That means you can get a cozy place to sleep. 
Final Thought
Now you can efficiently deal with the summer temperature. And don't spoil your summer camp. You are also aware of the dangers of this weather. Now you can quickly solve it and enjoy your camping. 
We all know that in hot temperatures making a camp, will be challenging, but it will be easy to follow those tips. You are overall having all the necessary accessories and set your tent in the right place.
Now it is time to make the right gear and gather your friends or family. Please leave your opinion about those tips. And you can share your suggestions. That one is out of our list. 
Relevant Resources: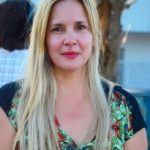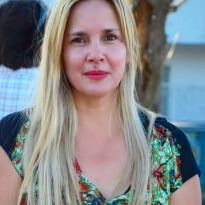 Guys, I am Camila Avery and I love to help my mom to do indoor & outdoor activities. As a lady, I have passed my time on gardening, home improvement, and personal or self-care. I have acquired some degrees in outdoor recreation, beauty, and hair care. It is not easy to work with top-level professional beauty experts. But, I got that opportunity and experimented with different hair extensions, hair colors, and cuts.