Electrical works are extremely risky unless the right tools are used in the correct way. If you don't have enough knowledge about the electrical tools and their operation, you may be exposed to severe injuries and hazards, including electrocution, explosions, and burns as revealed by health professionals across the world.
Another common incidence from the electric appliance is a short circuit associated with the burn, injuries and fire. Over the period of time, basic electric tools had been advanced to a great extent, while many more specialized tools have been developed in the contemporary world to address the emerging needs of accomplishing challenging electrical tasks with precision and safer way.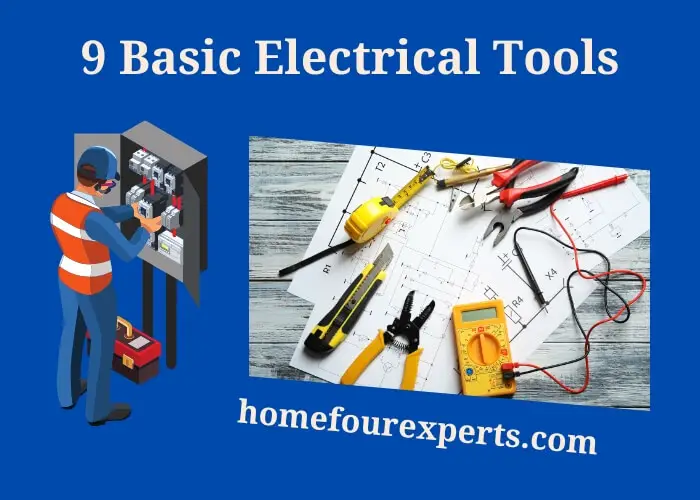 Nowadays, electricians prefer to have various kinds of tools to have a professional-grade performance. One common question frequently asked by electricians is which basic tools they should gather first to organize their toolbox.
Considering the need to prepare a smart list of basic tools, I have designed this article titled 9 basic electrical tools needed by every electrician.   
Measuring Devices
Measuring device is one of the popular choices by the electricians to have in their basic toolkit. While dealing with the electric wiring, measurement becomes an essential task to decide about the exact point of cutting and stripping.  There are various kinds of measuring tapes available in the market with different features including magnetic tips, multi-tips locks complementary to precision. 
Besides, electric tape made of plastic, fiberglass cloth, or vinyl has an advantage as these adhesive materials are pressure sensitive. In addition, they are compatible while insulating wires or other materials conductive to electricity. It prevents accidental electric shock and electrocution while passing to other wires and handling live wires by the electricians. 
Hammer
Hammer is one of the most frequently used tools among the electricians, which has manifold benefits. There are different types of hammers including a claw hammer, ball peen hammer and mallet hammer, etc. with different excellent features for nailing work.
Hammers are a popular choice among the electricians to have in their toolkit collection for pounding and pulling out nails. Hard-faced hammers with the cylindrical-shaped head are a great choice to strike the hard materials. In contrast, the soft-faced hammer usually made of plastic or rubber is best for the rewinding process.
Pliers
Pliers are recognized as one of essential tools by the electricians. You can hardly find an electrician who does not have pliers in his collection. Pliers are frequently used for cutting, bending, twisting, holding and gripping wires and cables. Electricians can't run their electric works smoothly without two types of pliers like side-cutting pliers and long-nose or needle-nose pliers.
One of the special features of pliers is their high-leverage side-cutting options, including massive cutting or connector crimping. These models also offer contoured and cushioned handles which provide a more comfortable grip without compromising its strength and durability. The upgraded version of the pliers is featured with contoured thumb area and flared thumb rest that offers more powerful gripping.
Long-nose pliers specially featured for cutting and holding fine wires allow access to constricted space to work. These types of pliers are used for building terminal loops in copper wire.  
On the contrary, the diagonal pliers are mainly featured for cutting medium or fine wires, including bending small soft metal faces. You may also read a review article on 9 best electrician tool belts 2020. Interlink
Screwdrivers
Electricians never can think of their must-have toolbox without screwdrivers. It's one of the frequently used tools that helps in releasing or fastening screws with slotted heads. A set of screwdrivers in various shapes and sizes are available in the market. They are mainly made of steel tempered at the tip meeting different working needs of the electricians. 
Power Drill
Cordless multi-purpose power drill is one of the most essential tools for the electricians to have in their toolbox. Its benefits are manifold including driving bolts into wall studs, fastening, cutting out heavy-duty holes in the building structures to make a passage of wires and conduit.
For fastening and working in tight spaces, a low-powered cordless model may be a good choice. In contrast, for heavy-duty like drilling into concrete or metal sheets, a hammer drill works excellently offering more impact and faster performance.
Some of the models featured with long-run battery time, high-frequency motor, superior ergonomics, and metal ratcheting offer prevention bits from slipping or falling out while working with drill. You may also read a related review article on "Best cordless right angle impact wrench-Top 10 drill picks 2020. Interlink
Wire Strippers
Wire stripper is one of the genuine choices for the electrical works suggested by the experts. They are basically used to remove the insulation of wires ranging from 10-16 gauges in size. They are also a great choice to remove the insulation of rubber covered wires from 26-10 gauges.
One of the popular models with curved handles allows the electricians to have sufficient natural grips, reducing repetitive motion fatigue and giving more control.  A thumb guide offers more comfort during faster wire stripping.
Voltage Tester
Voltage tester is an essential tool for the electricians to have safer electric power cutting off in the main section of the electric property. The tester indicates if there is voltage in a wire or conductor before going to work in the application. It's also used to confirm the power is successfully restored. Digital voltage tester displays the presence of the power field. Voltage tester is generally used to measure the voltage less than 250 volts. 
Fish Tape
Fish tape is another brilliant frequently used tool, and electricians prefer to keep it in their basic tool collection. It's mainly used to run wiring between gang boxes or other electric sections or compartments through conduit piping. It's contained in a retractable coil being able to be fed through connected conduit piping.
Its secure grips allow efficient and safer handling impact-resistant cases. Among various models, some perfectly suit for shorter runs of small-diameter conduits while the others may suit for multi-band applications for smooth operation of electric work.    
Multi-Meter
Multimeter is another versatile tool for the electricians to pack. Its multi-feature allows to measure voltage, conductance, current, resistance, capacitance as well as frequency, etc. It's an extremely potential tool to measure reading accurately. Multi-meter comes with both digital and analog systems. 
What Are the Essential Electrical Tools That Every Electrician Should Have
1. Multimeter
2. Wire cutters
3. Wire strippers
4. Voltage tester
5. Screwdrivers 6. Pliers
7. Crimping tool 8. Fish tape
9. Hammer
10. Drill
11. Voltage meter
12. Wrenches
13. Tape measure
14. Flashlight
15. Cable connectors
16. Electrical tape
What Are the Most Important Safety Tools to Use When Working With Electrical Circuits
1. Ground fault circuit interrupter (GFCI)
2. Non-contact voltage tester
3. Insulated tools
4. Protective eyewear 5. Rubber gloves
6. Flame-resistant clothing
7. Appropriate circuit breaker
8. Lockout/Tagout procedure
9. Safety mat or barrier
10. Regular maintenance and inspection
Concluding Remarks
I do hope you find the compilation of basic tools a smartest one to bag for your toolbox collection. You can also carefully revise the list of the tools to address your need based on the category of work you usually do to avoid overloading your toolkit with too many unnecessary tools. There are many other advanced version tools available in the markets which are extremely potential to get your work done smartly and efficiently. You can also upgrade your toolbox from time to time to have maximum compliance to deal with a variety of electrical tasks. 
As I mentioned, electrical works are associated with risk of hazards and injuries including short circuit, electrocution, explosions, burns and fire. Before operating your tools, make sure you have taken the right tools to work and are quite skilled to operate them. 
Always read the user's instruction manual carefully before using tools to prevent workplace hazards and injuries. Wear all safety gears and maintain safety protocol to be protected from accidents. 
Finally, I would like to say that your valuable comments and feedback always contribute to progressive improvement of our clients' services. Also, I would expect you to share this article with your family and friends as much as possible to help us to be able to bring them under our clients' service pool. 
You might also like: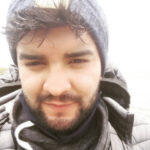 Hi, I am Eric Devin and I am a professional interior architect. Since childhood, I've always enjoyed DIY projects! And, I have loved to solve simple household problems using essential tools and equipment. I have also acquired a lot of information about basic household tools settings by working with contractors.